Wrapping up my Monthly Subscription fun for the month of July is my
Ipsy
bag! Spoiler: it's also the worst one this month...sad face. If you're not familiar with
Ipsy
, it's a beauty subscription that runs $10 and is sent out every month. It's focus is less general beauty and more make-up focused. You receive 4-5 samples each month (and sometimes full-sized items!) They have a point system for reviews, but it's pretty hard to redeem points without referrals - it's a nice extra, but it's not a reason to sign up for
Ipsy
. They also send you a make-up bag every month.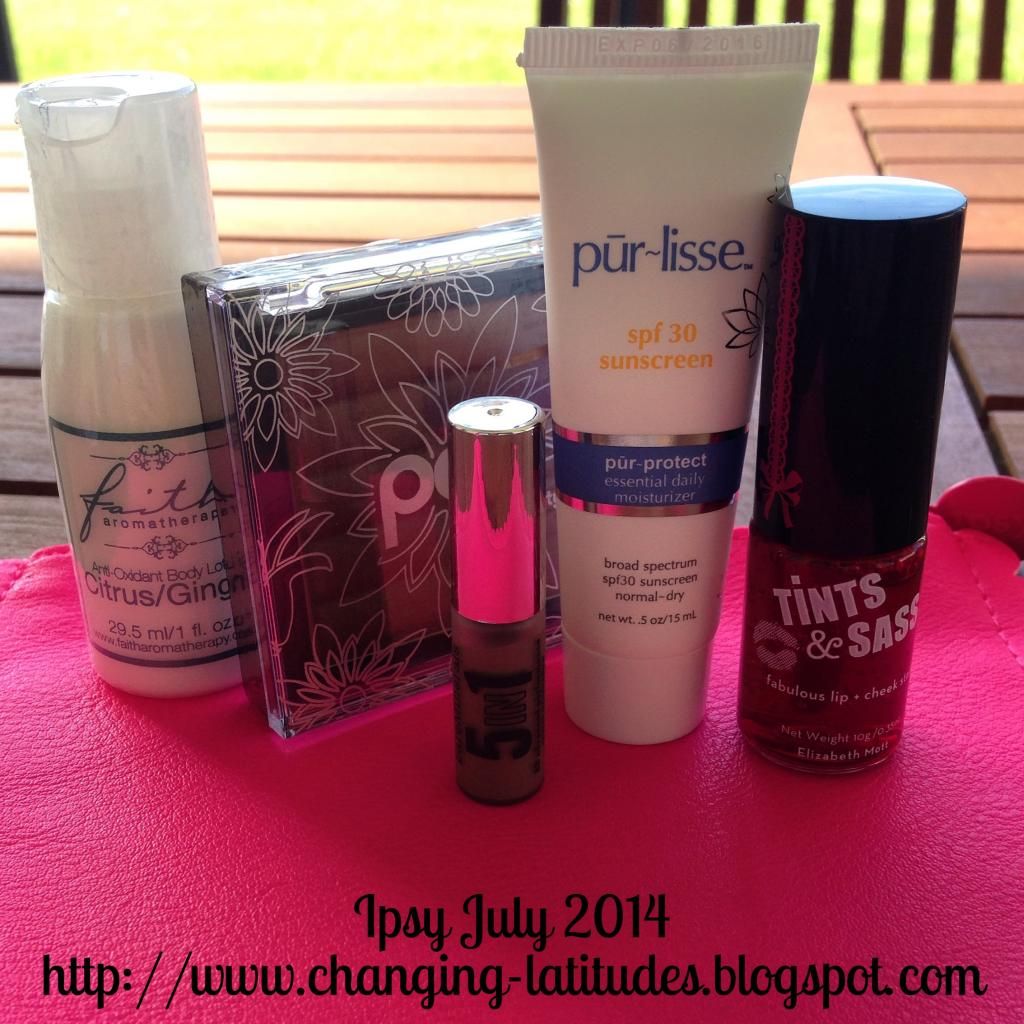 This month, the bag was a neon pink, square, with a scalloped edge. Someone called it a bright pink ravioli and it's pretty accurate. Not my favorite.
As for the products, beginning on the left, I received Faith Aromatherapy Lotion. The scent makes me gag, it's very strong on the ginger. Not a winner.
Next is the Pop Beauty Bronzer. (Full-size!) I don't wear bronzer - I'm far too pale, it just makes me look like I smeared dirt on my face. My Mom wears bronzer though, so she now has a new one! I also gave her the lotion and the bag. Sorry Mom!
In the middle is the 5-in-1 cream eye shadow from BareMinerals. I was hoping for this over the other eyeshadow possibility since the other one was a purple powder and I have a bunch of them already. I received the 5-in-1 in the shade, Divine Wine. I first used the applicator to apply directly to my eyelid and it looked like mud. So I put a little on my hand and then used a brush to apply - then it's actually nice. But I probably wouldn't buy it.
Next is the Pur-Lisse sunscreen. This stuff is in a million subscription boxes, which is probably why it's so expensive. The full size is $55 - which seems ridiculous for sunscreen. I threw this in my purse so that I'll have it if I'm out. A nice product, but nothing to be super excited about.
Finally is Elizabeth Mott Tints & Sass. (Full-size!) It's a cheek and lip-stain in a cherry red. I really hate stains. They're never even and leave my lips sticky. Not my favorite product.
The problem with this month's bag is that it's a total swing and miss for me. Just not my favorite. Oh well, I still like it overall. The products were good and the value is awesome, but it's the risk you take with Subscriptions!