Whenever you have a group of adults who talk about Epcot, eventually drinking around the World comes up. Clearly, we are no different and decided to give it a try. So for some history on how it came about; last month, friends of ours, James & Crystal, suggested we give it a try - it was on James' Bucket List. Since I really can't drink that much, I offered to be the Designated Driver. We originally scheduled it for February 2, but since my parents have a timeshare at Orange Lake that was being used and had an extra bed the following weekend, we rescheduled to February 9. This worked out well, because even if I was sober and able to drive all the way back home - it was still a long day and a 15 minute drive is better than an hour!
Mexico
We got to Epcot about 11:30 in the morning and headed straight for lunch. We had discussed a strategy and decided Mexico should be first then double back to the UK, so I suggested Cantina de San Angel for lunch. It's one of my favorite places to stop around the World Showcase for lunch, so I was a happy camper. We finished up just after noon, so we had a good 9 hours to hit 11 countries. Once we had food in our bellies, our first stop was to
Cava del Tequila
. Since this was our first stop, and I love their Blood Orange Margaritas, this was the only place I joined with a drink as well. Crystal joined me with a Blood Orange Margarita. As usual, it was delicious.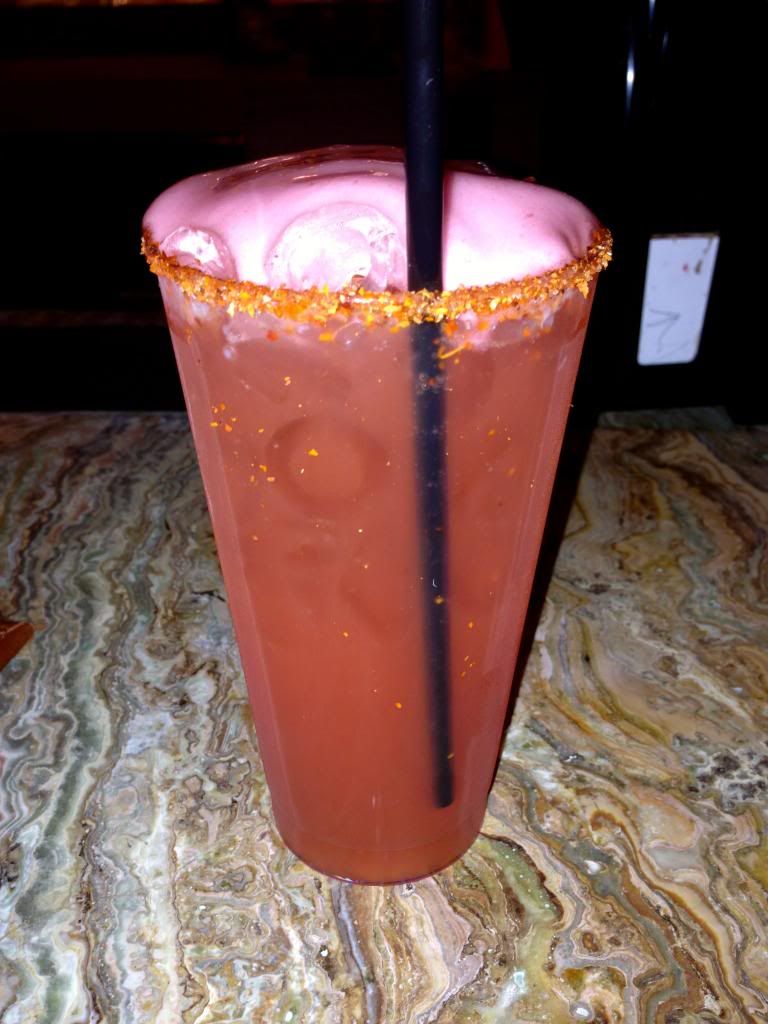 Blood Orange Margarita
James & Geoff both had Classic Margaritas, but Geoff's was made with Mezcal instead of tequila. They both look the same, so I'll just include the one picture.
Classic Margarita
Before we moved on, we grabbed a seat outside to enjoy our margaritas. Of course, Nemo was hitting the Northeast. Rochester had 9"+ of snow they were digging out from. It's days like this that remind us what a great decision we made.
Beautiful Day
Canada
This was the one country I forgot to take a picture. I was still nursing my margarita, as was Crystal and Geoff, so James was the only one who got anything in Canada. The options are limited in Canada unless you go into the restaurant, so James wound up with a Moosehead beer. We wandered around and enjoyed the scenery before continuing to the UK.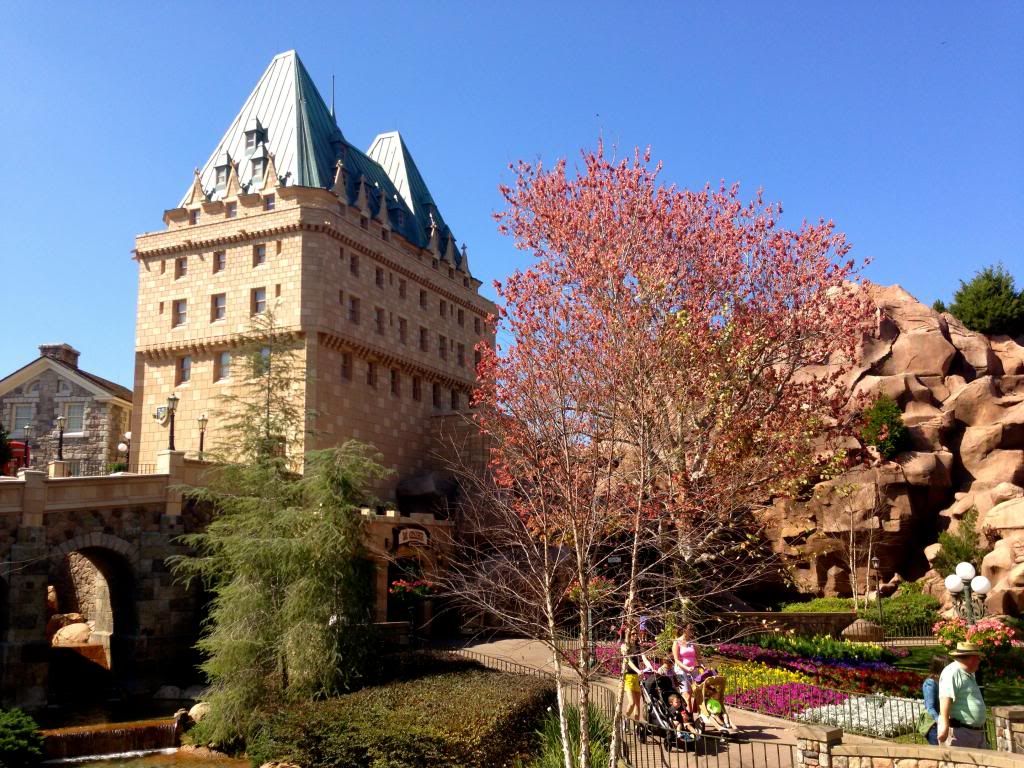 Canada - did I mention it was *gorgeous* out that day??
UK
I was *still* nursing my margarita (and some nasty heartburn...) so I had a cup of water in the UK. Clearly, my choice was the most exciting.
Crystal opted for Guiness.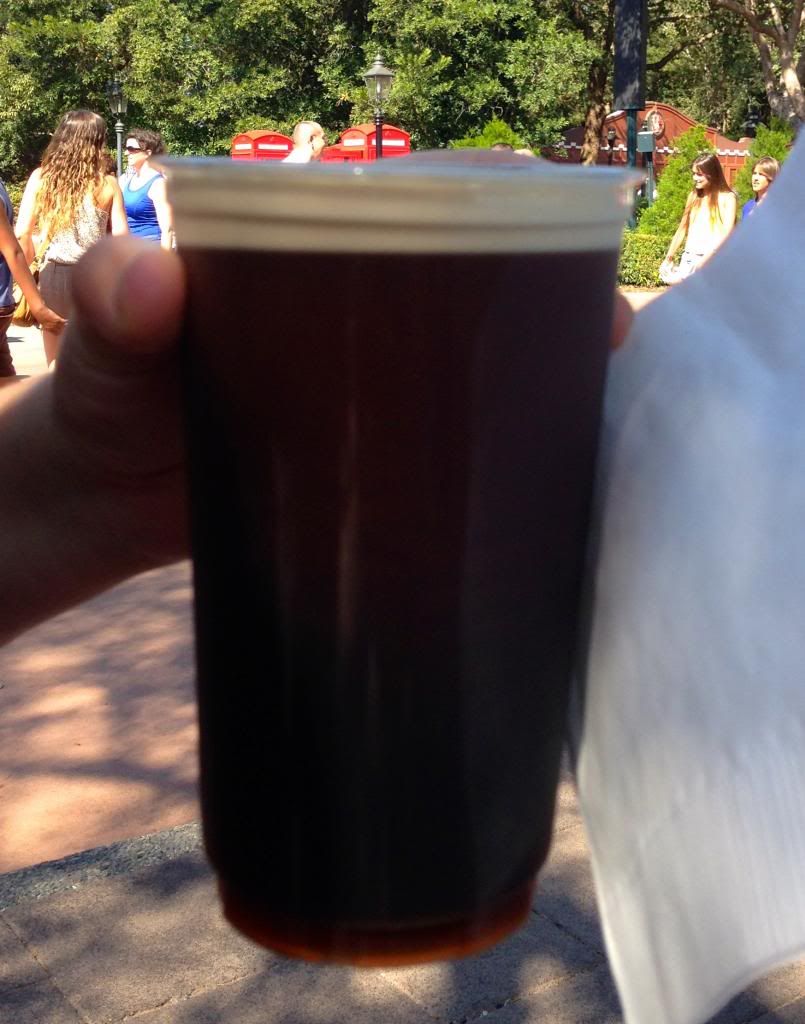 Guiness
James and Geoff both had a Boddington's English Pub Ale.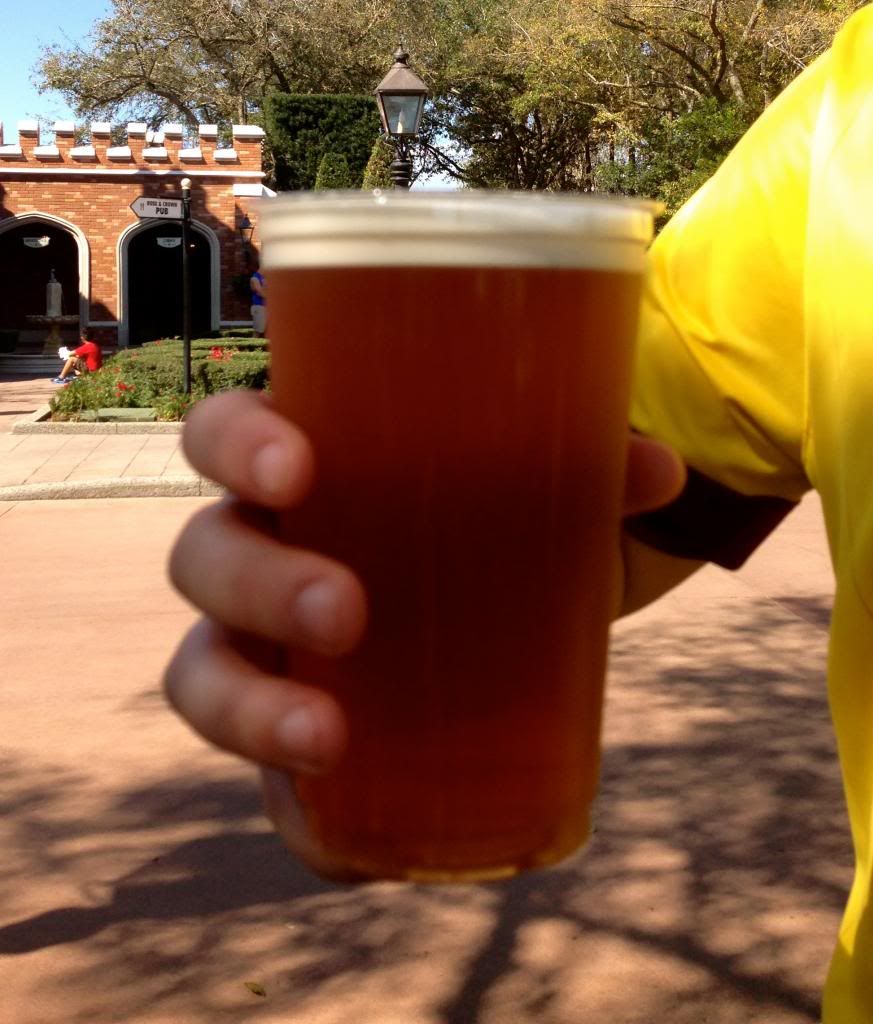 Boddington's English Pub Ale
We blew through Mexico and Canada in less than an hour, so we started to slow down in the UK. We found shady benches and started people watching - easily one of my favorite things to do in Disney.
France
In France, the one thing I wanted to do was check out the new bakery, so we headed back and I decided we needed to come back at the end of the night for desserts!
Crystal began her flight approach to drinking around the World in France. She had the rose and both reds. James had a single glass of red wine.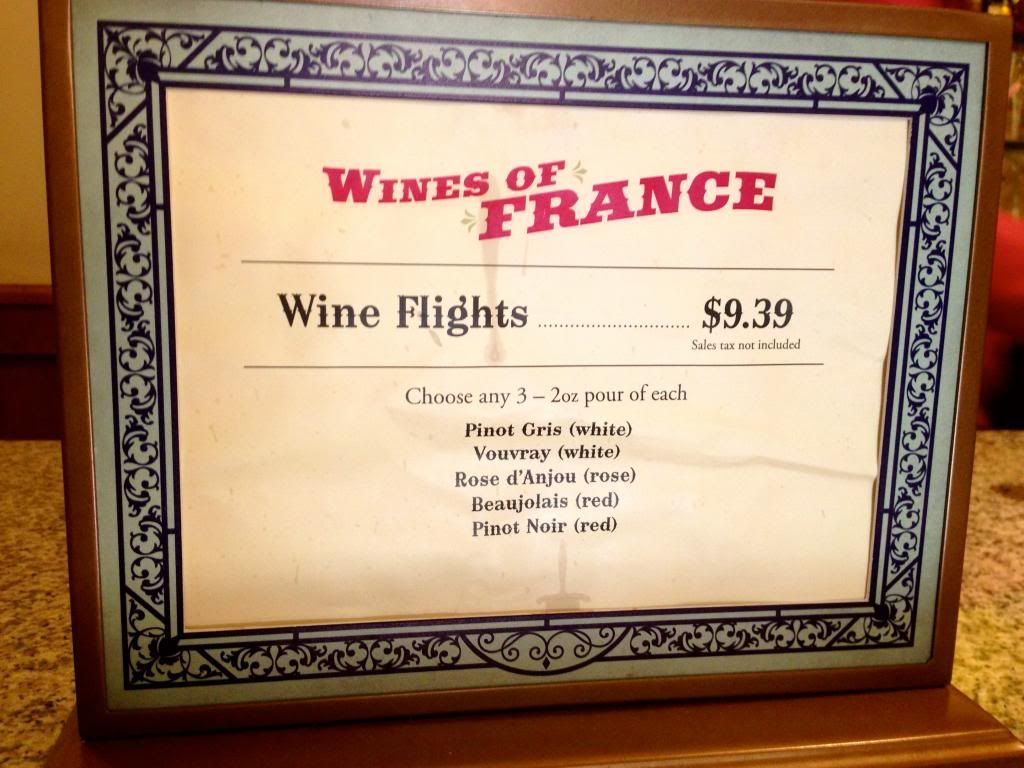 Wine Flight options
Wines in France
Wine Flight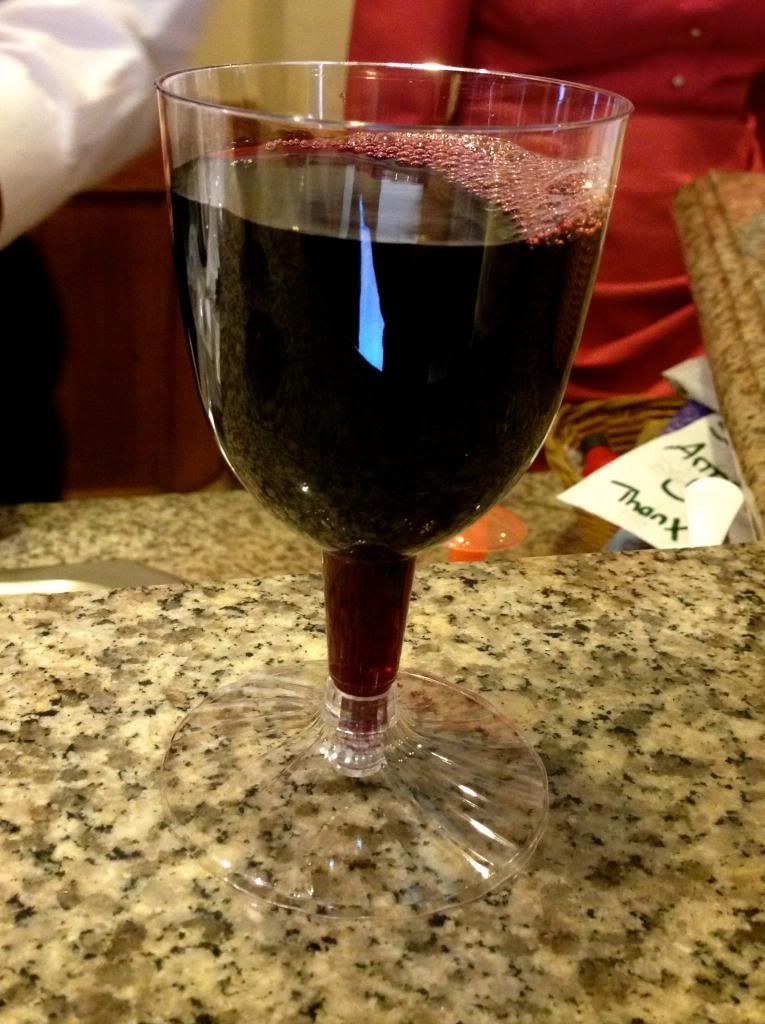 Single glass
We found a table outside and again enjoyed the lovely day. About this time we started hitting a nice pace, even if we weren't doing anything more exciting than sitting and drinking.
Morocco
We hit Morocco right before Morockin started, so we grabbed drinks and went outside to enjoy the show. We grabbed a spot to sit at the base of a Flower Bed...and watched a Dad and his kid in front of us. The kid was going around, stomping on the plants and pulling them up. No kidding. Dad was oblivious and watching the belly dancer. It was pretty horrifying. I was just about to say something to the Dad when he finally started paying attention to what his son was doing.
Anyway, Crystal had the Tangerine Daiquiri and James had a Casablanca beer.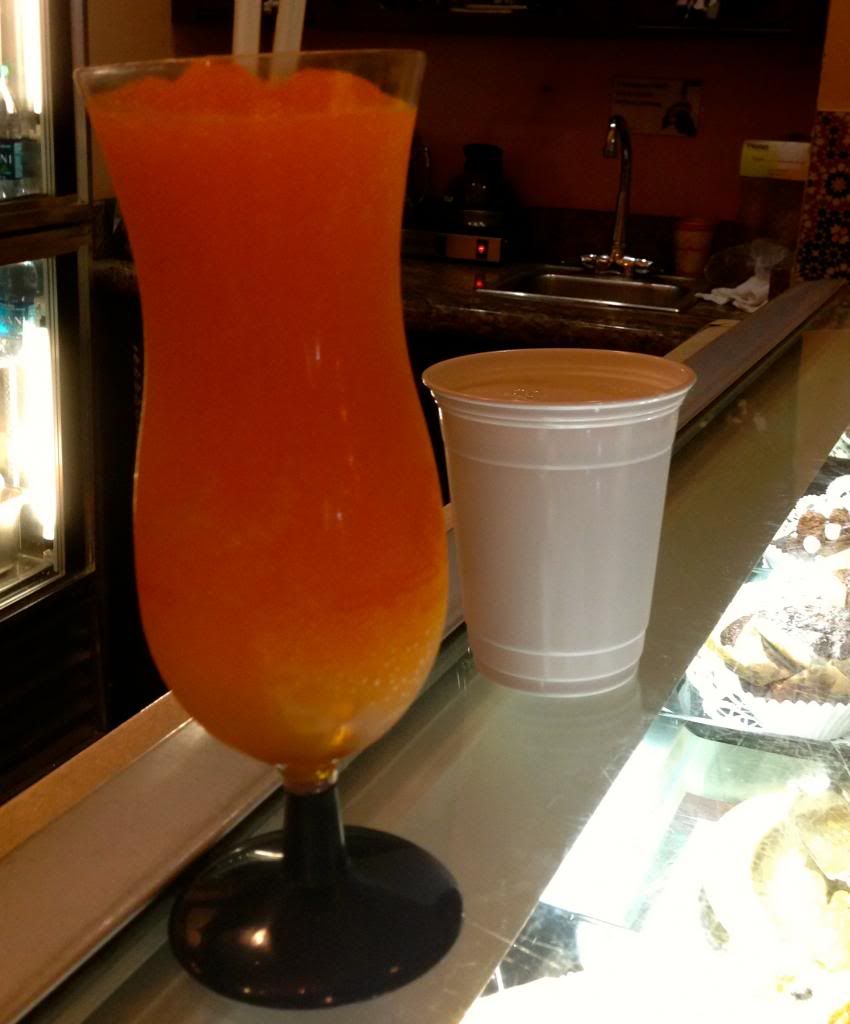 Moroccan drinks
In Japan, we didn't go straight for the booze. Instead, we browsed the store for a bit. Crystal decided to Pick a Pearl, so we had fun with that. I had heard before that to pick a good pearl you should pick the oyster that is the ugliest you can find. So I pointed one out to her that looked pretty ugly to me. So she picked that one - and I held my breath until the pearl was out.
And it was 7 and 3/4 mm! Pretty big for a pearl. I was relieved!
Once we had our fun in the store, we headed back to the Sake bar in the back. Crystal, James & Geoff all got their own Sake flight. (Crystal's flight count is up to 2 now.)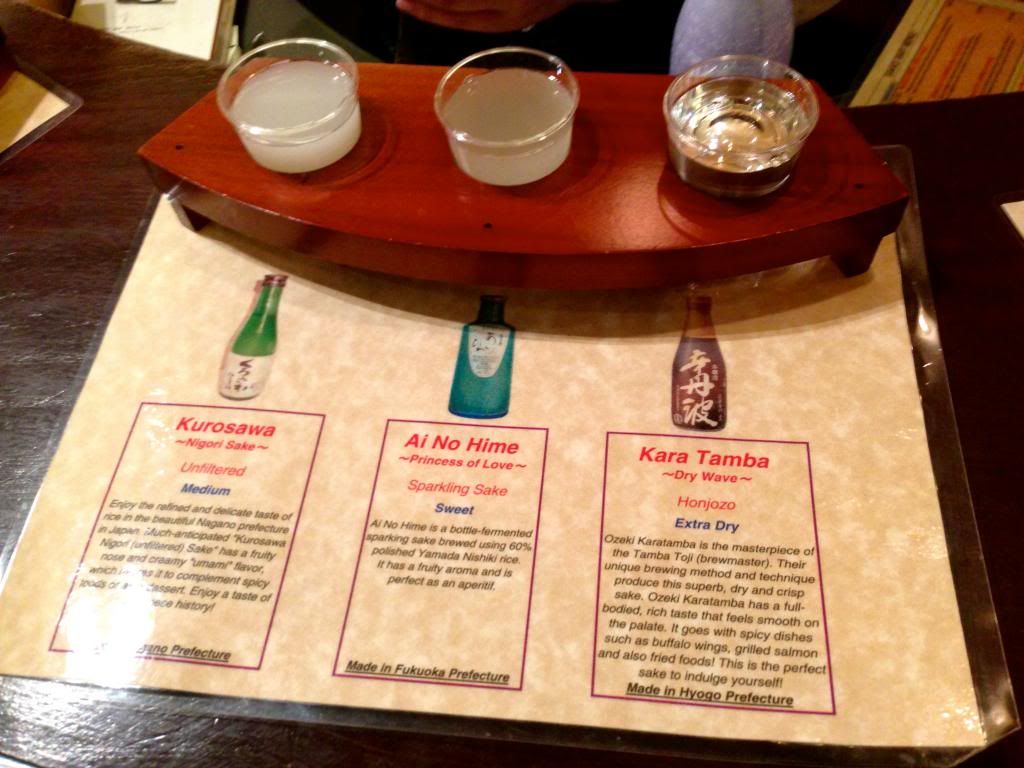 Sake flight
It was unanimous that the one on the left and in the middle was pretty good, but the one on the right was really strong and pretty much had to be taken as a shot. Their faces were pretty hilarious. Oh, and the Cast Member at the Sake Bar? Her name was Saki. Good work Disney.

Half way through!
America
When we reached America, we grabbed one of the tables outside and James went to get his beer. He opted for Yuengling. Apparently he does not care for Sam Adams. Crystal had some of it, so far the only country she skipped was Canada.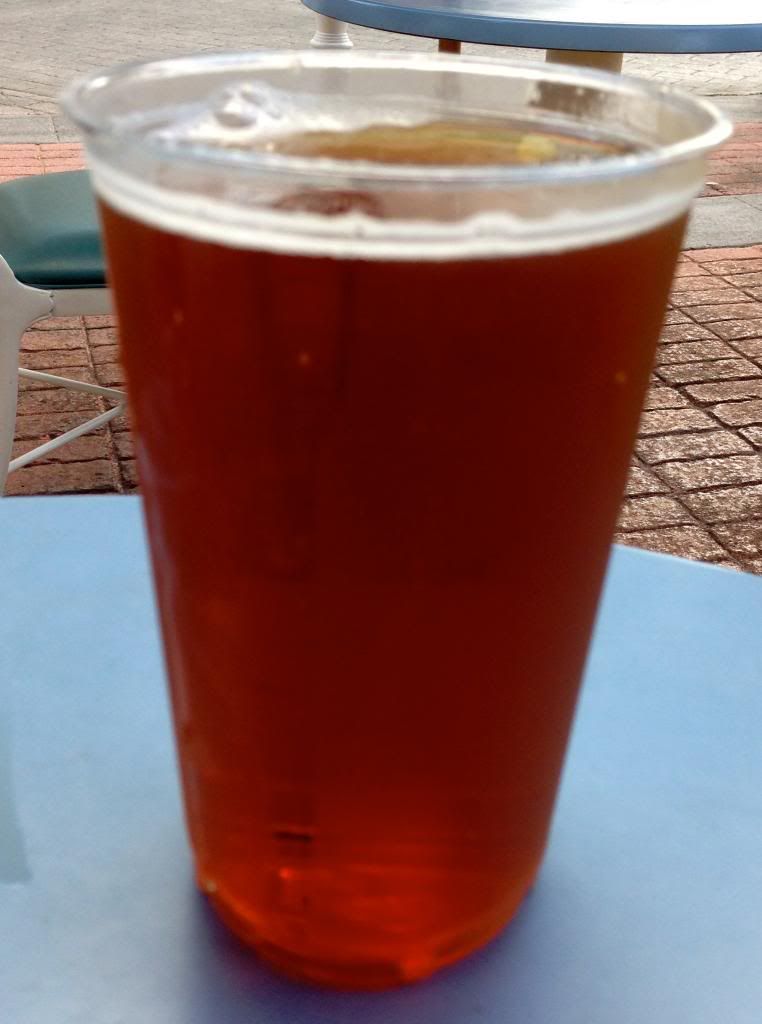 Yuengling
While we were sitting, I got a text from my brother that he was entering the Park, so we stayed at America for a little longer (which apparently is not specific when you tell someone where you are by saying "in America." Whoops.) While we sat, we saw the Fife & Drum Corps perform, and then walk by as they left.
Fife & Drum Corps
We had a decision to make in Italy - do we go just with the kiosk, do we get wine from Tutto Gusto to go, do we get wine from the wine store? We opted for Tutto Gusto, and were going to get wine to go, but they had plenty of room inside, so we sat down. It worked out well because we also needed some snacks.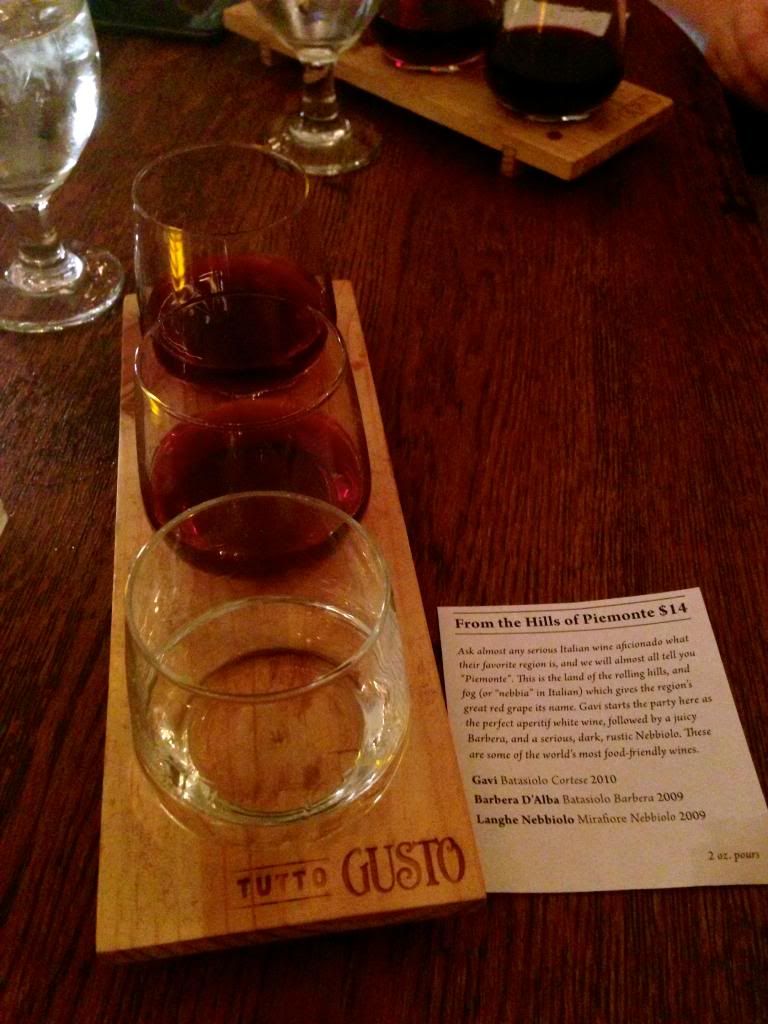 From the Hills of Piemonte Flight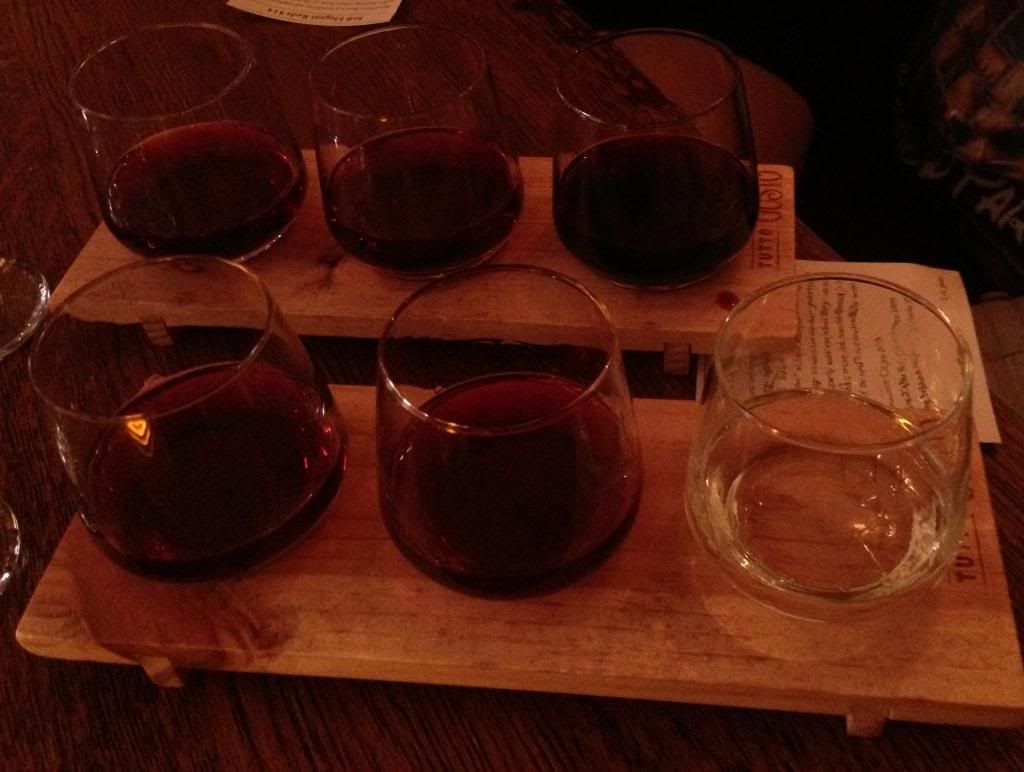 More wine flights
Crystal got a red wine flight (flight count: 3), and James went for the one with 2 reds and a white (flight count: 2.) My brother got a glass of red wine, and Geoff & I went with the old stand-by...water.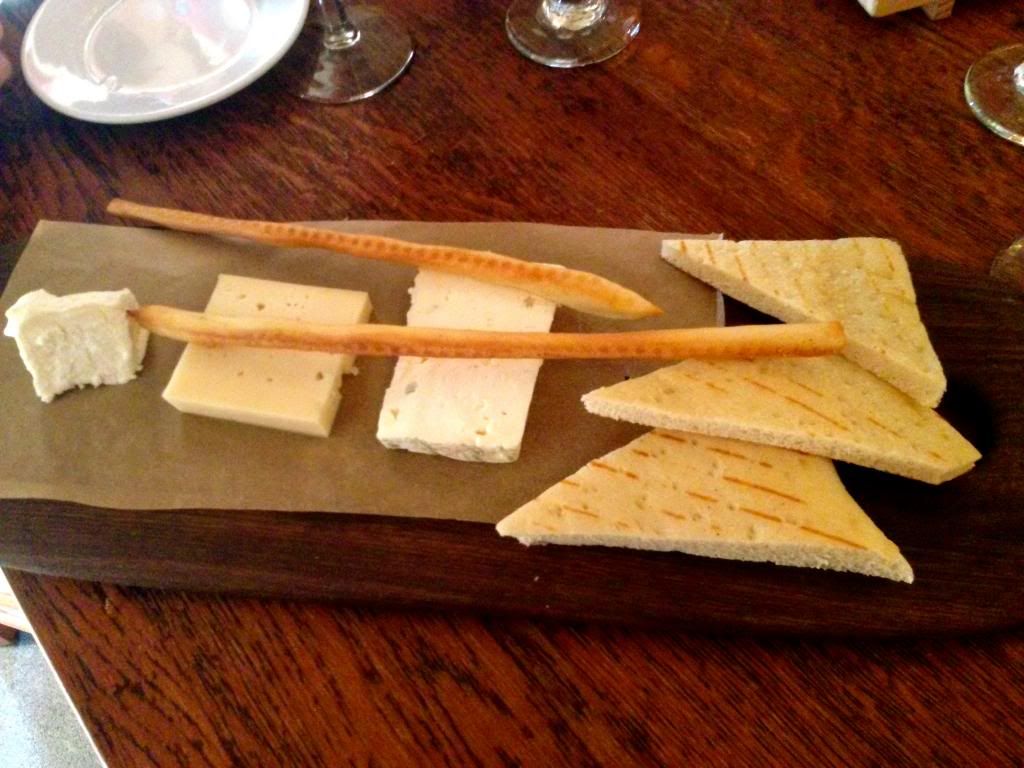 Cheese Plate
For snacks, we got a cheese plate to share. Tutto Gusto was a nice change of pace....albiet easily our most expensive stop. We spent a good amount of time enjoying the atmosphere. One of my favorite stops, but that's because I got cheese.
We split up a bit in Germany. Crystal and I went into the caramel store. The guys went outside and got beer and pretzels. I got a really tasty Peanut Butter cookie with chocolate chips and caramel sauce. James and Crystal split a pretzel and James had an Oktoberfest of some kind.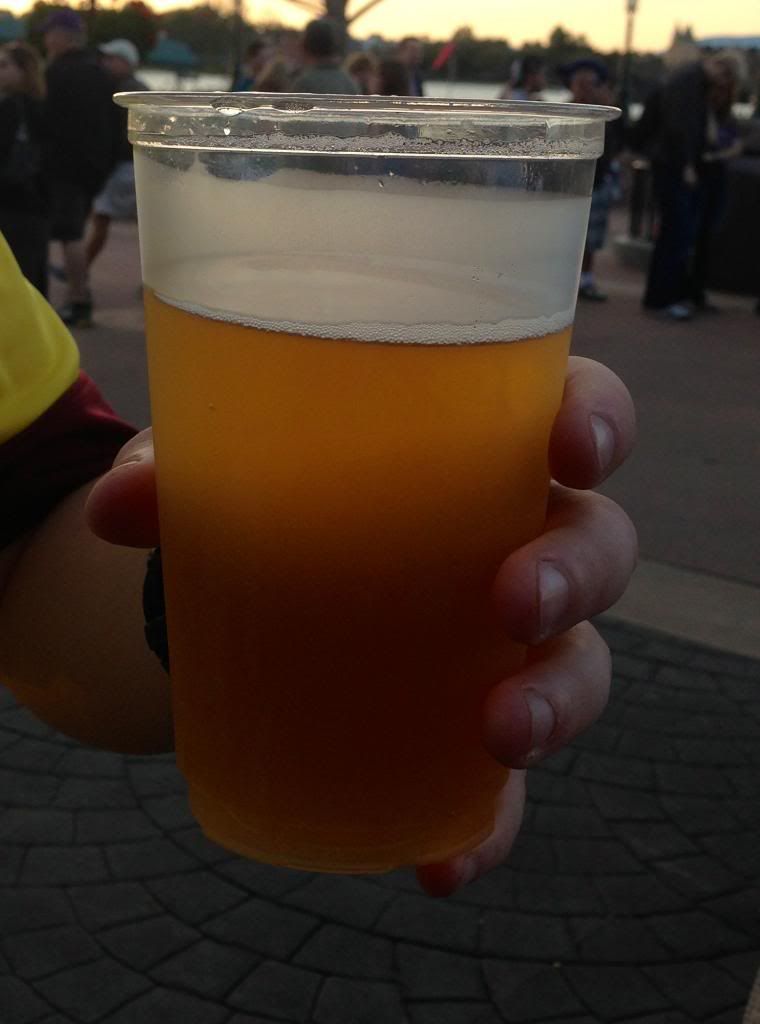 Oktoberfest
There are apparently 2 available, but I don't know which one he had. (EDIT: It was apparently the Altenmuster Oktoberfest.) We all met up again and headed into the wine store in the back for Crystal's German selection.
Dessert Wine Flight
She opted for the Dessert Wine Flight (flight count: 4.) Geoff wound up helping her with this because she was reaching her limit.
My brother was going to grab a beer a little later, but there was a cute girl working in the wine room, so he went and got a glass of wine in Germany instead...
There is a bit of debate online whether or not you need to stop at the African Outpost to complete the Around the World challenge. James decided that he wasn't going to take a risk, so we stopped at the Outpost.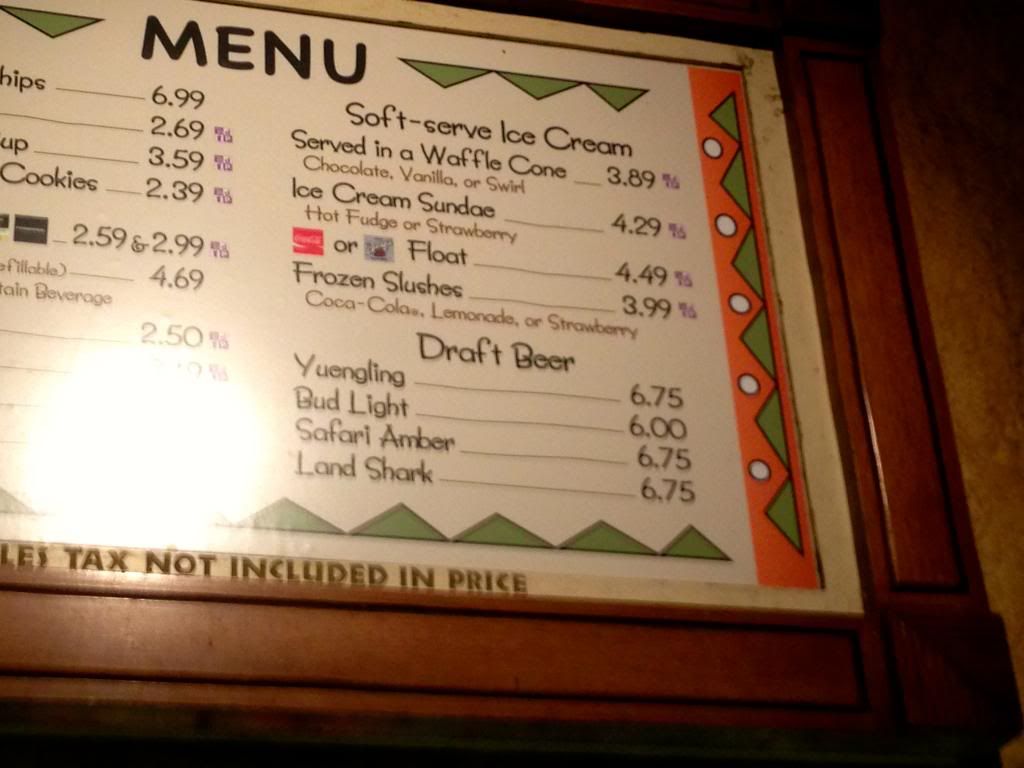 Outpost options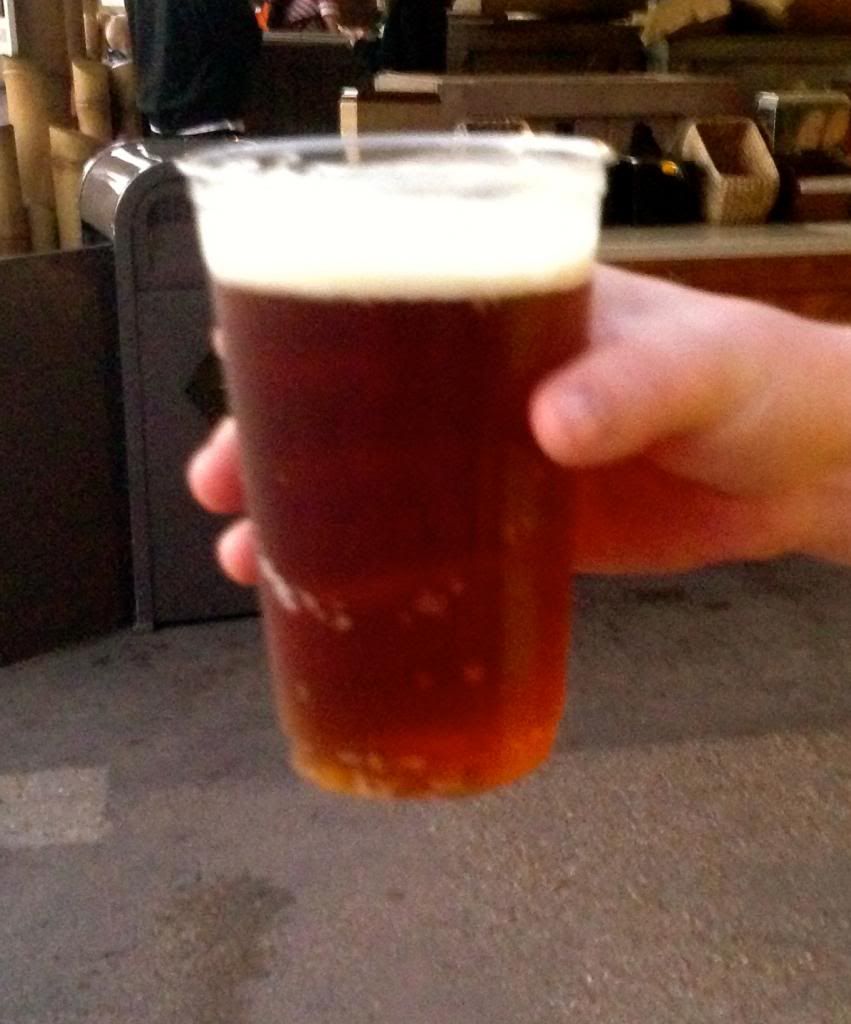 Safari Amber
Clearly, the only real option at the African Outpost is the Safari Amber. As he drank this one, Cliff (my brother) enlightened us with the "Florida Man" twitter account. If you haven't seen it, check it out here:
Florida Man on Twitter
. And we sat there cracking up for quite a long time.
At this point we were all getting pretty hungry, and since China was next, it was the winner for dinner. We stopped at the Counter Service location...and it was fairly disappointing, but I'll do a separate post on the food. During dinner, Crystal decided she was done. Those flights will do you in. So after dinner, we got our beverages (they were out of the Tipsy Duck, we were all super disappointed.)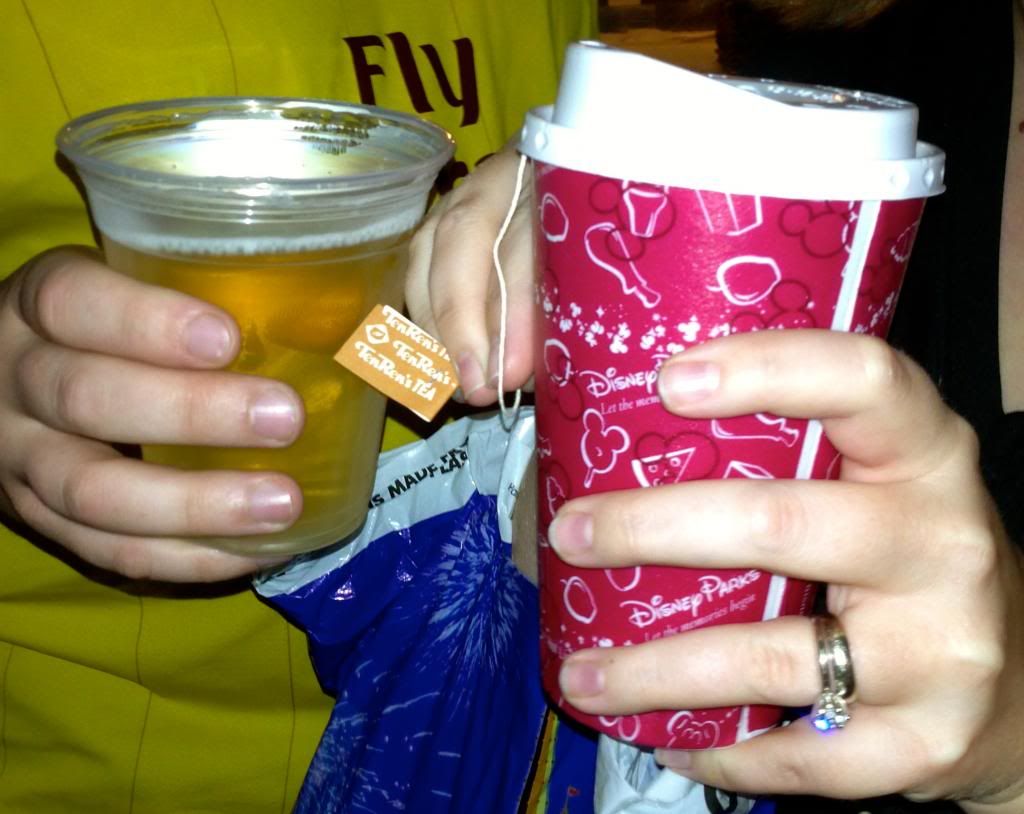 Tsing Tao (beer) and tea
We walked over to our next country while drinking these. James was the last one standing.
Norway
We made it to our last country. One more drink and we'd be successful in Drinking Around the World...or at least James would. Of course, when in Norway, you can't skip Maelstrom. So we hopped in line. Crystal and James had never seen the movie, so we were all set to stop and watch it. Until we saw the following: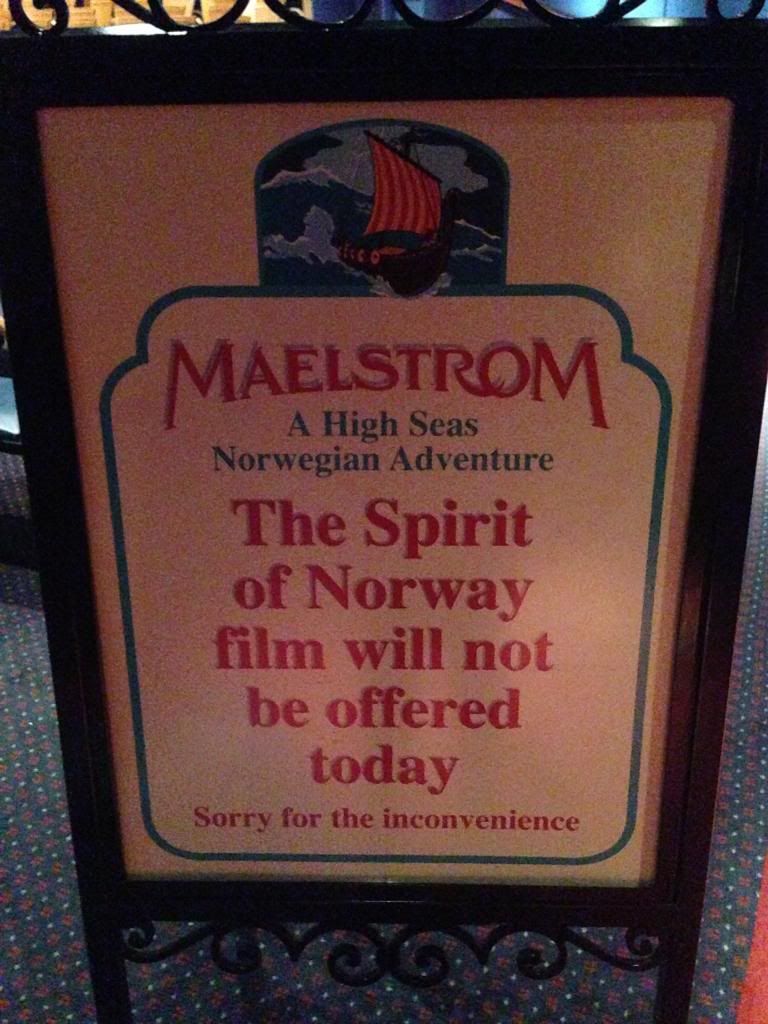 Nooooooo!
It was quite sad. We had only one option: cheer ourselves up by finishing the quest!
Cliff joined James with the Aquavit shot. We also got a pair of School Breads for breakfast in the morning.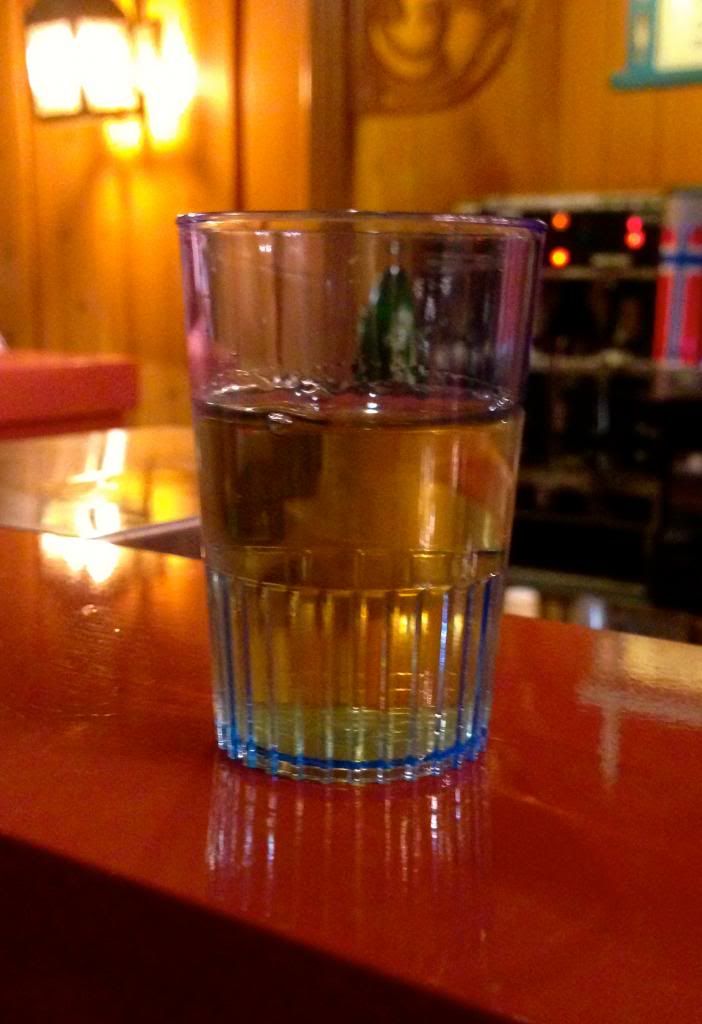 Aquavit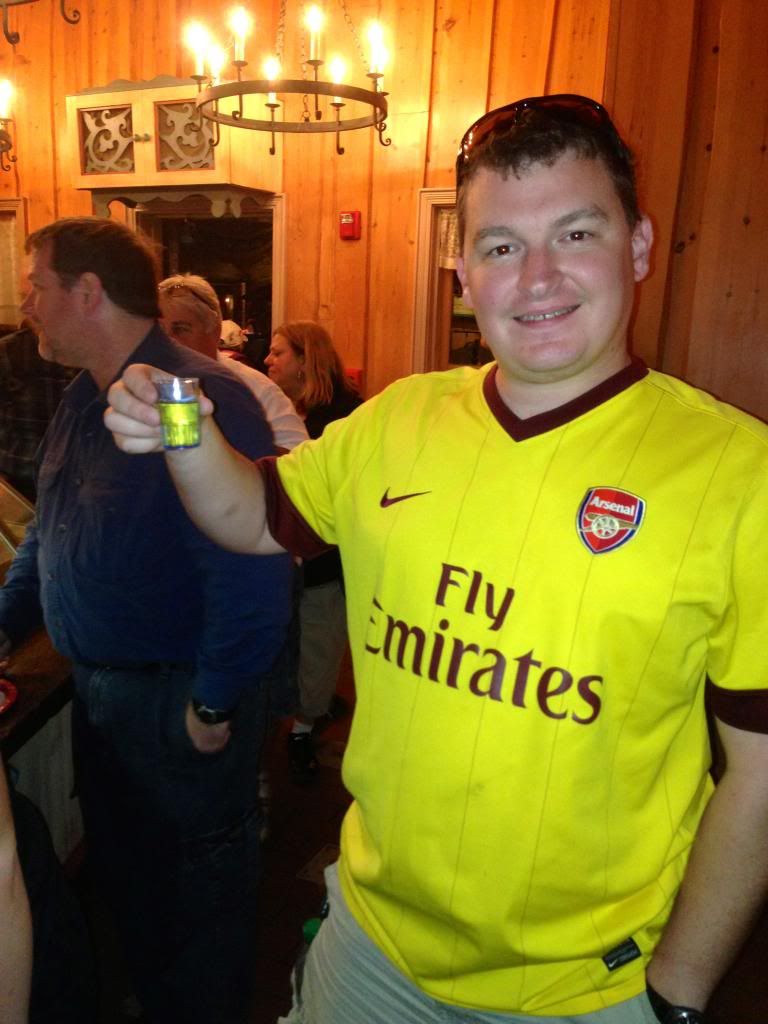 Mission almost complete!
With 55 minutes to spare, we completed Drinking Around the World! Granted, only one of us actually did, but it was still fun to do as a group.
Before Illuminations, we ran back to the bakery for me to have something sweet and get something for breakfast in the morning (for those of us who don't like coconut...yuck!) James opted for a "Victory Lap" beer at the Rose and Crown Pub in the UK, but I didn't get a picture of that.
Tips
There are a few things we learned while doing this, so I figured I would share.
Skip the flights. Crystal probably could have made it around the World if she didn't opt for so many flights.
Don't try this in the middle of summer. We hit a gorgeous day, with highs in the mid-70s. In discussing it afterwards, if it was a lot hotter, it would have been much more difficult.
Pace yourself. We had 9+ hours and finished in about 8. Which works out to about 40 minutes per country (and African Outpost.) When we first started, we were moving faster. We couldn't have kept that pace and been successful.
Bring a group. We were able to share a bit, which made it a little easier on our heavier drinkers. James has said that if he tries it again (now that he's completed it on his own) he would definitely share more instead of a full drink in each country.
And the obvious: stay hydrated and if you're not staying on Disney property (and can take the bus back) have a designated driver.
That's it! Thanks for joining me on our adventure, we had such a great time! And yes, we spent 9+ hours in Epcot and only did one ride...Maelstrom.