I think this is the first time I'm repeating a restaurant! When my parents and I checked out the new Test Track, we also grabbed lunch at Epcot. My Dad had never been to Tutto Gusto and I was certain he would love it - wine, cheese & meat? What's not to love?
The menu has also changed since the
last time
I was there. The big thing is that they moved to pre-selected plates rather than a la carte. I'd like to see it still be a la carte, if given a choice. And the items I had last time are no longer on the menu. They gave us the menu for Tutto Italia, which we put aside. I discovered after we got back that at least the polenta is a side you can order from Tutto Italia, so we could have gotten it at Tutto Gusto if we wanted.
I didn't take many pictures, so I'll apologize in advance. We got there just before noon and there wasn't a problem getting a table (Tutto Gusto is first come, first serve - no reservations.) It's fairly dark in there and I had trouble getting a cell phone signal inside, so if you're trying to get in contact with someone, be aware of that.
We had a very sweet & attentive waitress, but she kept trying to up-sell us, it was to the point that it was comical. My Mom also wanted to set her up with my brother...which she tries to do every time we go to Epcot.
My Mom had a white wine flight, and my Dad had a red wine flight. I stuck to my favorite - a glass of Prosecco. We also opted to split the "L'Alpina" plate, which was all cheese. There was a Fontina, La Tur, and Gorgonzola. It came with thin breadsticks and slices of a pita-like bread. The cheeses were excellent. There was a good portion of it on the plate to share and they were of a really good quality. The gorgonzola was absolutely delicious - not overly pungent, but still had that distinct gorgonzola taste and was super creamy. Yum!
We then each ordered paninis. Now, we were expecting a pressed, toasted sandwich, but apparently the word "panini" just refers to a sandwich in Italy. Despite my initial disappointment in the type of sandwich, I think it's great that they're sticking to the traditional. I honestly don't remember what kind my parents opted for - my Dad got two ($9 for one, $13 for two) and thought it was a tad too much with the cheese plate first, and my Mom & I just got one.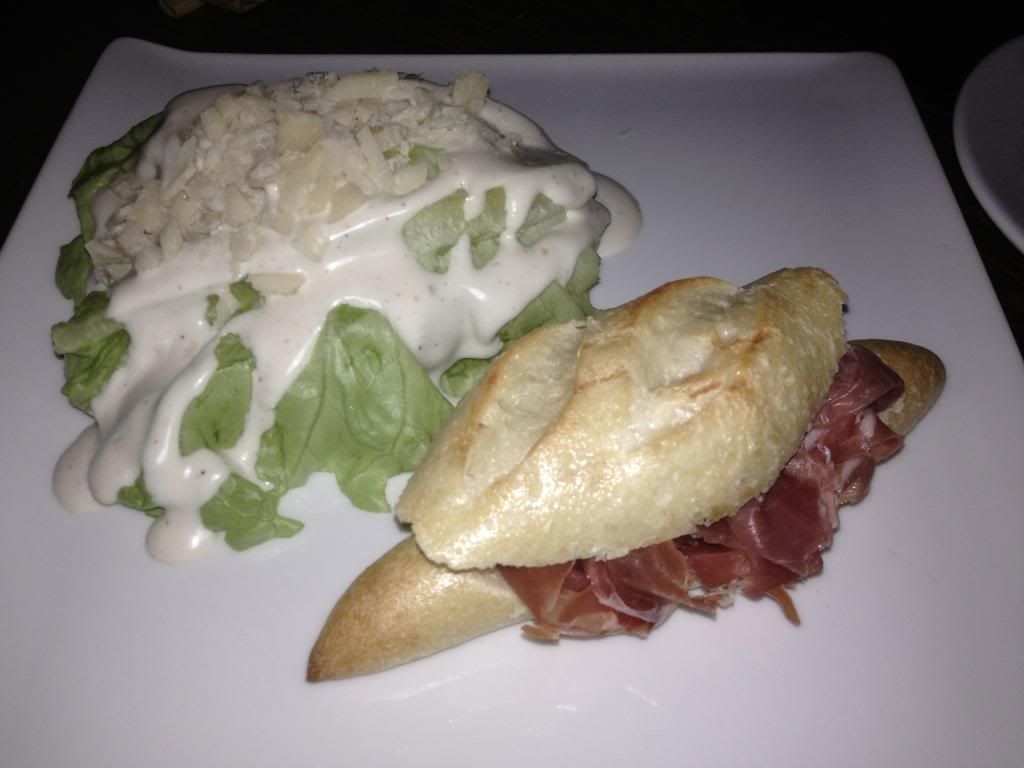 Prosciutto Panini
All the paninis come with a Caesar Salad wedge. The prosciutto panini was delicious. It is literally just prosciutto on a fresh roll. There was fresh parmesan cheese on top of the salad. I absolutely loved the salad too. The dressing was perfect - creamy, but not heavy. I didn't think it was too garlicky but my Mom gave me a funny look when I said that.
All in all, I still love Tutto Gusto. It is still a hidden gem as it doesn't seem like too many people know about it. It's especially great if you want to be served but don't care to make a reservation. The quality of the food here is fantastic and you're totally transported out of a theme park. I had to step outside during the meal for a phone call and it was a rude awakening that I wasn't
actually
in Italy! So if you have not checked out this spot yet, definitely make it a must-stop next time you're in Epcot!