This past weekend Geoff and I were planning on heading to the Magic Kingdom...until we discovered that his pass is now blacked out until August.  So we went to Universal instead (where my Seasonal is still good to go!)
The last time we went, we didn't really do many rides at the Universal Studios area, so we made that our plan for the day.  We got there shortly after the park opened...old habits die hard I guess! I was a little concerned when we walked in and saw Despicable Me had a 40 minute wait.  I shouldn't have been though, once we walked to the back the waits were essentially non-existant.  We hopped on the Mummy (which was AWESOME) and started wandering when we saw Transformers was open!  And only had a 10 minute wait.  So we hopped in line.  10 minutes was really just the time it took to walk through the queue!  They had just opened it up for the day, we really lucked out!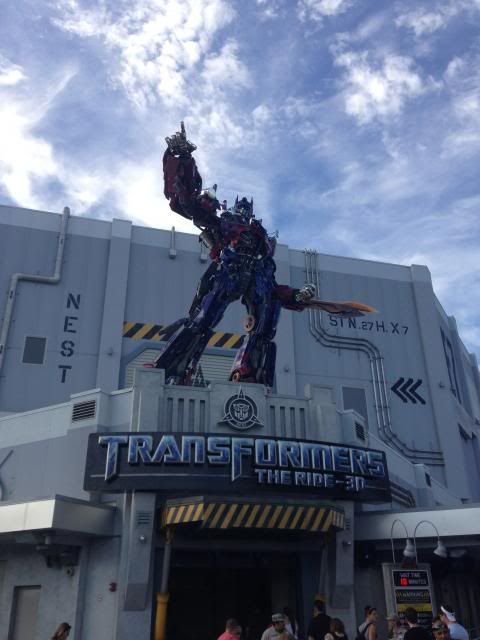 Entrance to the ride.
The verdict?  It was great!  It was really well done.  It's in the same style as Spiderman at Islands of Adventure.  I was amazed that we were moving down the "road" when I thought we couldn't go anywhere...until I realized it was the 3D effect.  Haha...oops!  About half way through we lost the effects and audio.  It started up again before the end, so we didn't go on again.  It's the risk you take when the ride is in soft opening, so I wasn't too upset.