This past weekend Geoff and I were planning on heading to the Magic Kingdom...until we discovered that his pass is now blacked out until August. So we went to Universal instead (where my Seasonal is still good to go!)
The last time we went, we didn't really do many rides at the Universal Studios area, so we made that our plan for the day. We got there shortly after the park opened...old habits die hard I guess! I was a little concerned when we walked in and saw Despicable Me had a 40 minute wait. I shouldn't have been though, once we walked to the back the waits were essentially non-existant. We hopped on the Mummy (which was AWESOME) and started wandering when we saw Transformers was open! And only had a 10 minute wait. So we hopped in line. 10 minutes was really just the time it took to walk through the queue! They had just opened it up for the day, we really lucked out!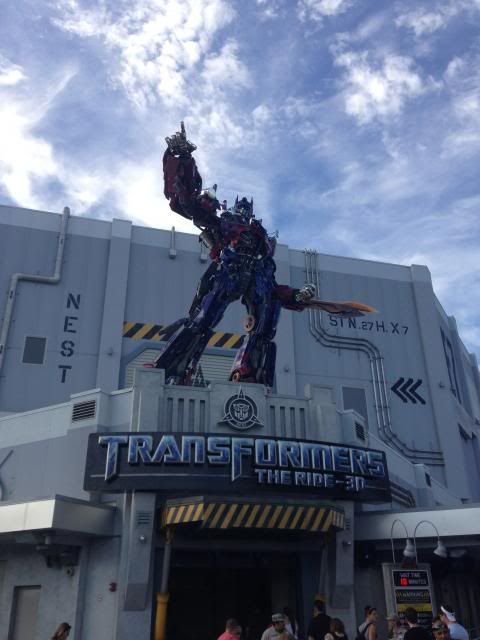 Entrance to the ride.
The verdict? It was great! It was really well done. It's in the same style as Spiderman at Islands of Adventure. I was amazed that we were moving down the "road" when I thought we couldn't go anywhere...until I realized it was the 3D effect. Haha...oops! About half way through we lost the effects and audio. It started up again before the end, so we didn't go on again. It's the risk you take when the ride is in soft opening, so I wasn't too upset.
We continued our walk through the Park, stopping to do Disaster! and MIB. I had the highest score in our vehicle for MIB, so it was clearly a good ride. A little after 11, we were near the new Simpsons area, which meant an early lunch!
Before I get started of what I thought of the new food options in Springfield, I should put this disclaimer: I am not a Simpsons fan. I didn't grow up watching it, I don't watch it now. A lot of this area was lost on me. However, as an American who spends far too much time watching TV, I have seen an episode or two, so I know the style of Animation and the basic characters. ...still there? Good! I took lots of pictures!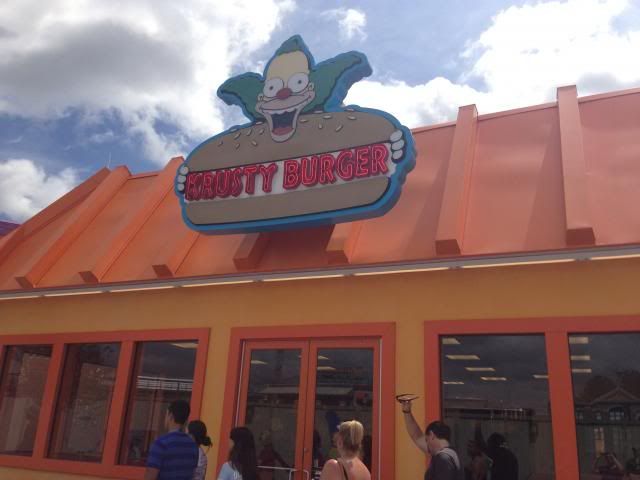 Krusty Burger
Moe's
The front looks like there are many separate buildings to make up the town of Springfield, but when you walk into Moe's Bar, through the back is the cafeteria-like set-up for the food options. What look like separate buildings from the front are actually separate rooms that have lots and lots of seating for those getting food.
Bar at Moe's - with Duff Beer
The bar at Moe's serves alcohol. They have Duff beer and Buzz cola (I understand these are things from the show...)
Inside Moe's. There is a pool-table style table to eat at
Set up for food options
Menu - click to make bigger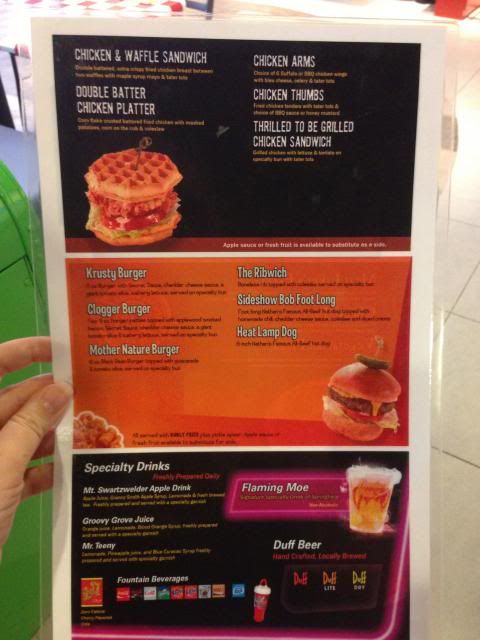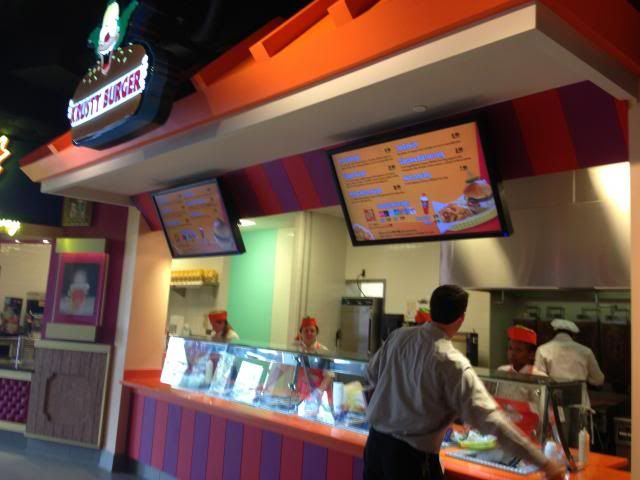 General set-up for the different spots
Dessert options
Lisa's area provided the only healthier options...and they were all pre-packaged. I was rather disappointed in that. Everything else was set up cafeteria style, so you tell them what you want and what you want with that option. I knew enough about the show to recognize that the Krusty Burger was something I needed to try. So I got that and Geoff got the chicken and waffle-sandwich.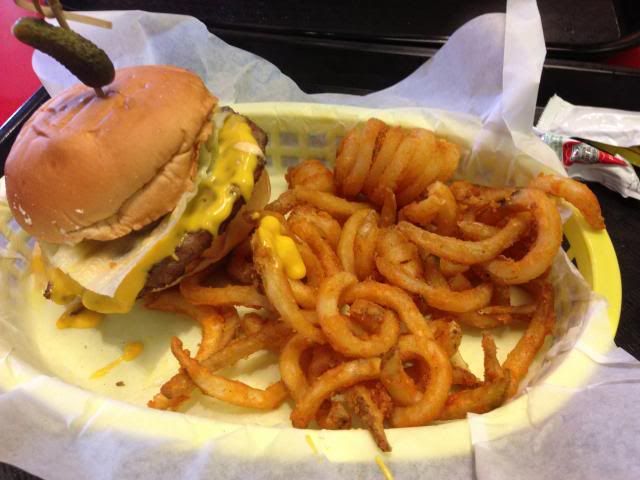 Krusty Burger with curly fries
So the Krusty Burger was essentially you standard theme-park burger with plastic cheese and Thousand Island dressing. It was fairly tasty but ridiculously messy. Honestly? It really wasn't anything I would get again. It was fine, but it was $10 and not really worth the calories. I was also disappointed that my only side option was curly fries. I'm not a huge fan of them, but luckily Geoff's came with tater tots, so we switched.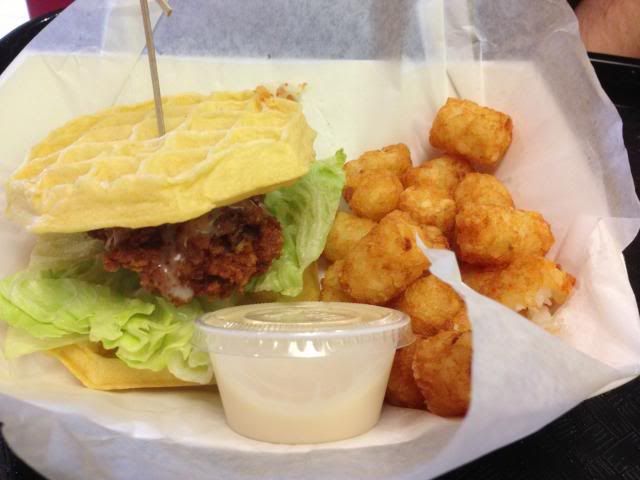 Chicken and Waffles
Geoff got the Chicken and Waffle sandwich. It was the better of the two choices in my opinion. But I was disappointed in how generic it was.
Overall, the entire area was your usual theme-park food with Simpsons themed names. I would stop again if it was convient, but not go out of my way. The quality was average. I just couldn't get that excited about the food. It was really the same thing I could get anywhere else in the park. The Moe's bar seating area is the best themed. It does look like you're stepping into the bar from the show. The rest isn't anything exciting. I might have had a different opinion if I could get into some of the jokes and references from the show, but all of that was lost on me.
On such a hot day, we couldn't leave without some Butterbeer! So we hopped over to Islands of Adventure, which was SO much more crowded than Universal Studios. Of course we took the long way around to the Harry Potter area...I'll be happy when we can hop the train over!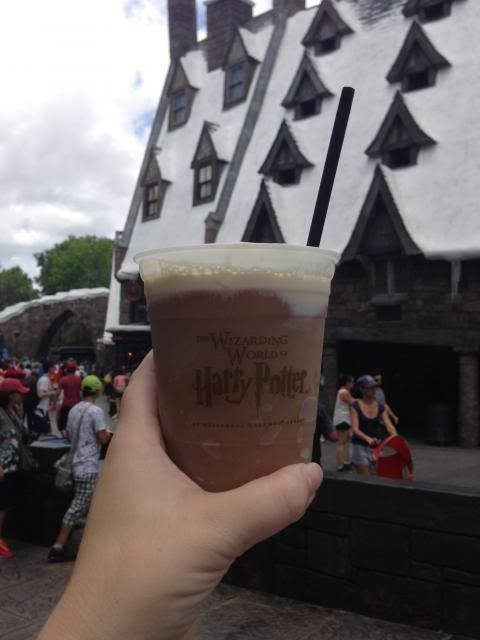 Don't let the snow fool you, it was hot!
Butterbeer in hand, we strolled out of the Parks around 1pm. A solid morning and we were out before the storms hit!