A couple months ago I started participating on Influenster. It's a free site, anyone can sign up. The idea is that you do some product reviews, answer some survey questions, and then they'll send you a "VoxBox" to try new products that match your interests. They do require that you connect your Social Media accounts and share the products on those platforms. So these products I'm reviewing were free to me through this program.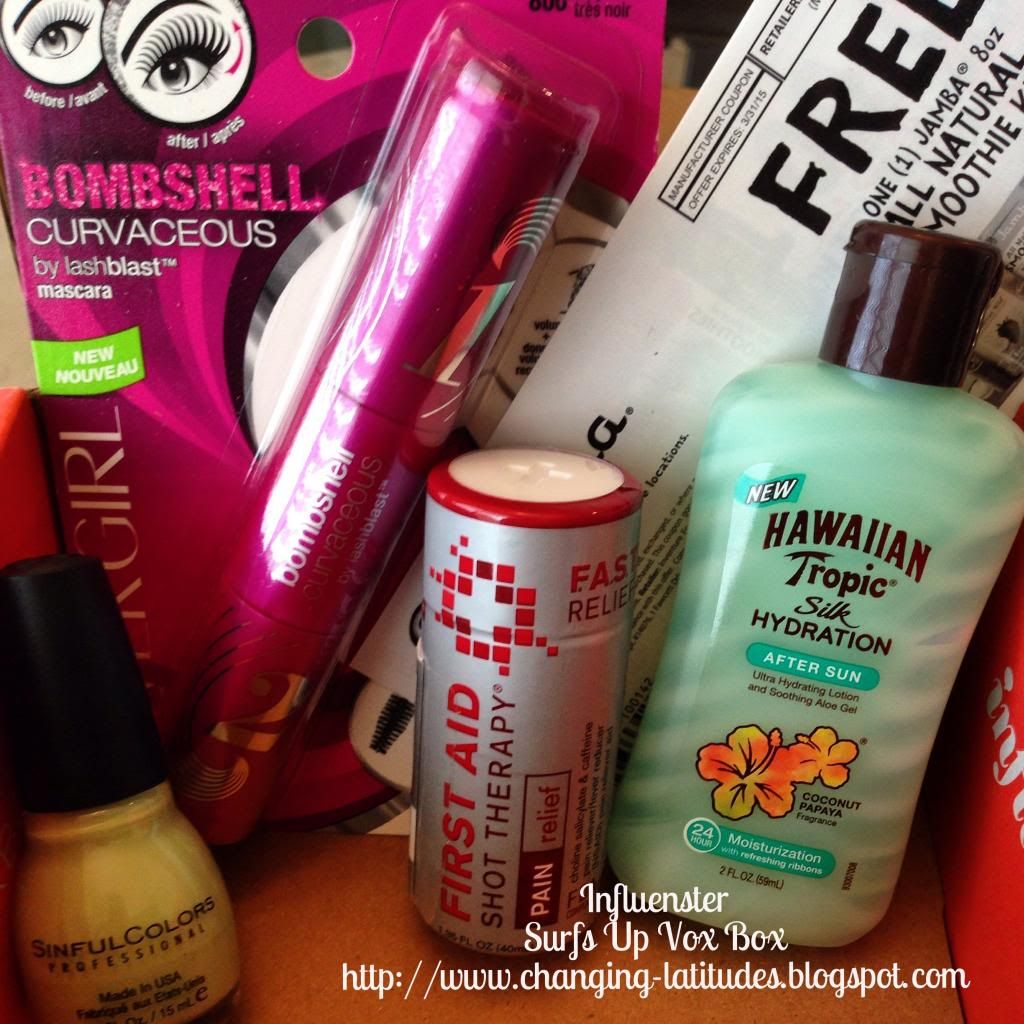 They were calling this the "Surf's Up VoxBox." Full of products that are perfect for the Summer.
Everyone received the same thing, except some people received Not Your Mother's Shampoo & Conditioner instead of the mascara. As you can see above, I received the Bombshell mascara from CoverGirl. I have a crazy amount of mascara due to all of my subscription boxes. Last weekend I finally went through and tossed some of the older ones so I could open new ones - including this one. I do like the mascara, it separates and defines your lashes really nicely. I don't particularly care for the wand, it's really thick and it's kind of hard to remove - even with my eye make-up remover. I don't think I'd go out and buy it, but it was okay.
Next is a coupon for a free Jamba Juice Smoothie from the Grocery store! I love Jamba Juice (I'd be in trouble if one opened in my area) and I've bought them before from the store to make at home. They're not quite as good as the ones you can buy in the store, but they're still really good. I enjoy them as a breakfast.
The green bottle is the Hawaiian Tropic After Sun Lotion. I luckily haven't been able to use this yet. Seasons are opposite in Florida compared to up North - I keep inside during the summer. I will probably need this product in December when I forget to put sunscreen on when we spend a day outside (I know, you feel horrible for me!)
Next is the First Aid Shot Therapy. Sorry, this product was not for me. It's a weird product. I can't see me ever carry this around with me instead of a couple pills. Then again, I get migraines often enough when I have nothing to drink that I can dry-swallow pills.
Finally, I received Song of Summer from SinfulColors Nail Polish. I've gotten Sinful Colors before from PinchMe - and bought Endless Blue at Target (it's a perfect Tardis match, no?!) It retails for $1.99 and is a pretty decent formula for the price. It goes on really nice, but chips a little faster than some of the nicer brands I own (like OPI.) However, lately I've been changing my polish every 4-5 days anyway, so it doesn't bother me when it's just starting to chip on day 3. They also have almost any color you can imagine, so if you want to try a new, more daring color for you, it's a great brand to do that with - why spend $10 on a bottle you're not sure about when you can spend $2!
And to reiterate, I received these products free for testing purposes from Influenster.