I've fallen a little behind on my
Graze
box reviews! I got a new one before I even posted about my last 2. Oops! Let's take a look at the past three boxes.
If you're unfamiliar with
Graze
, it's a subscription box that comes either every other week or every week. We get it every other week, which seems to be the right frequency for us to have a nice treat every now and then. Boxes cost $6, if you use my referral link (above) you'll receive your first and fifth box free. While true customization isn't possible, Graze does allow you to rank snacks. Anything you mark as "trash" you will never be sent again (or for the first time.) They also have a section where if you're allergic or sensitive to certain products, you can go and trash all snacks in that category, though they do specify that cross contamination is likely.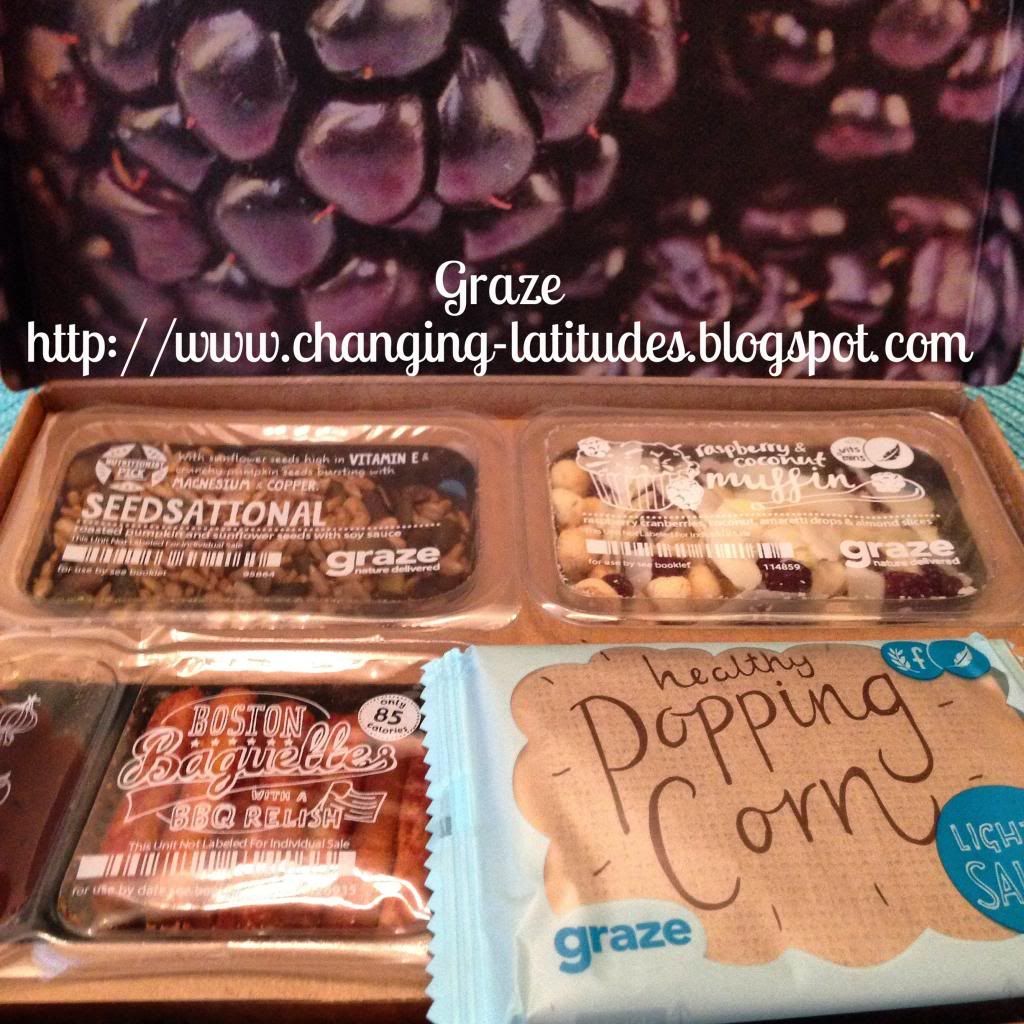 Starting from the top left, we received Seedsational, Raspberry Muffin (a repeat for us, Geoff loves it), Boston Baguette (breadsticks with BBQ dip) and lightly salted Popping Corn. This box was a big win for us, we liked everything in it. I really love their pop corn, it's a perfect size!
Their July boxes had a special print of the American Flag on them - I thought it was a cute touch! (And I'm excited to see if they do anything for Christmas!) Starting in the top left again, we received Little Figgy Went to Market (dried figs, apples, craisins), Natural Energy Nuts, Banana Caramel Dippers (repeat), and Brooklyn Bites (poppyseed pretzels, cashews, seeds.) This one was a mixed bag for us - we loved the dippers and the Fig mix, but wound up trashing the nuts and Brooklyn mix. As for everything we've trashed, it's not that the snack is bad, it's more that it's not that exciting and we'd rather receive something else than that again.
Finally, this box we received on Monday. Again, starting in the top left, we received Booster Seeds, Key Lime Pie, BBQ Pistachios, & Spicy Corn Taco. This was a nice mix. We haven't tried everything yet, but we've received the Key Lime Pie before. The booster seeds wound up being trashed - like before, they were good (really filling, took me 3 days to go through the whole pack!) but I'd just prefer to receive something else.
We still really love
Graze
. It's a fun treat for a reasonable price every couple weeks. I'm really hoping the Brownie Flapjacks show up in our box soon! Flapjacks are my favorite snack from them and I'm excited for the new flavor!