This month I splurged when
Birchbox
released a Limited Edition Box that they called the Modern Mermaid. I'll review that before I get into this month's regularly scheduled box!
Every so often, Birchbox will release a Limited Edition Box. These are more expensive than the monthly boxes, and curated around a theme. This theme was "Modern Mermaid" or a Summer beach essential kit. It was priced at $44, but with a discount code & saved points, I paid $15 for this box. Which is a steal considering the value of the box is over $100. I mean really, it was awesome.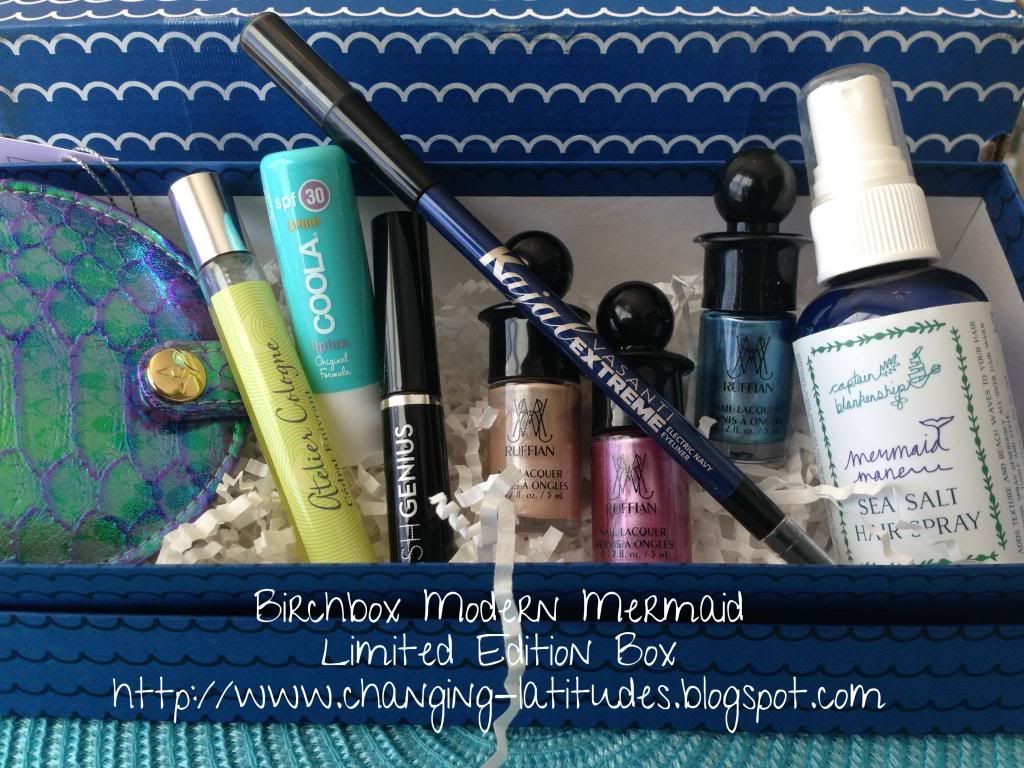 The packaging on this box was fantastic, right down to the outer box it came in. They really nailed the presentation. I'll start from the left and make my way to the right. First, there's the
Mermaid Mirror
that is essentially a little compact mirror. I haven't used it yet, but it's a cute little mirror. I should bring it in and keep it on my desk at work so I don't have to run to the bathroom to re-apply my lip gloss. Or maybe I'll gift it, I haven't decided yet. Next in line is the
Atelier Cologne
. I wasn't really looking forward to the perfume as I can't wear most perfumes as they're too strong and will give me a migraine. I love the smell. It's light, so a spritz or two on my wrists is enough that I smell great, but doesn't give me a migraine. It wound up being one of my favorite items in the box.
Followed by
Coola Lip Balm
with spf 30. It's hard to get excited about this item, but it's one of the things I really wanted from the box as I knew it would come in handy living in Florida. Next is
Lash Genius
which is a mascara top coat that makes any mascara waterproof. Again, living where we do, this will be a great product to have, but I haven't tried it yet. Another eye product,
Vasanti Eye Liner
in navy. Funny enough, while I was looking forward to this item and not the perfume, turns out I don't like it that much. It's designed to smudge, but is also waterproof. So if you rub your eye, you can't fix it in the restroom at work. The color is pretty, but I'm not sure how often I'll wear it.
The nail polish trio is by
Ruffian
. I've been rapidly adding to my nail polish collection, so these were calling my name. They're pretty and metallic. I generally like the formula and they work well together when you can't decide what color to wear...not that I've done that before... Last but not least is the
Captain Blankenship Sea Salt Spray
. I absolutely love the name of the company. Besides that, this stuff works great when my hair is towel dried - but not when it's all the way dry. The nice thing is that it controls my waves but still leaves my hair soft. I'm still in love with this box and super happy that I went for it. If I see another box that peeks my interest, I'll probably get another one!
And now for your regularly scheduled blog post! If you're unfamiliar, Birchbox is a monthly subscription that runs $10/month. The 4-5+ items per month are samples or deluxe samples. You can review the items for points (each review is 10 points, every 100 points you receive $10 to spend in the Shop...which is how I got the Mermaid box!) You can set up a profile that will determine the kind of boxes you get. If you'd like to sign up, it would be awesome if you used my
code
as I get points! POINTS!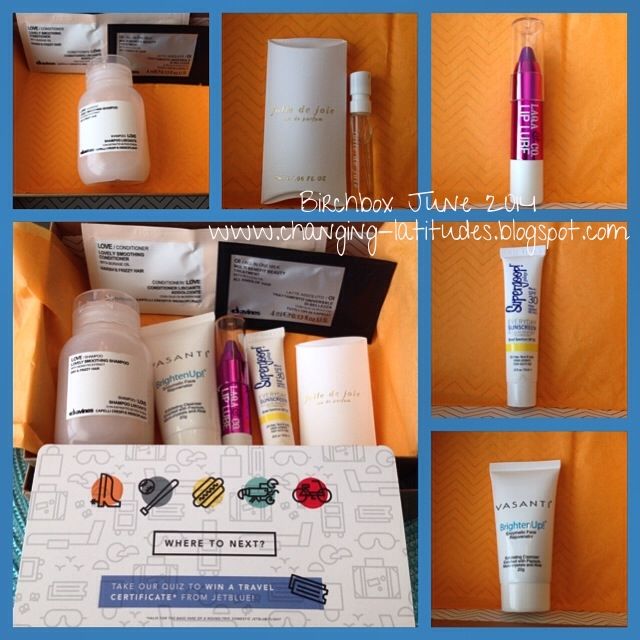 This month's box was pretty good, if not fantastic. The nice thing is that it was a 7 item box, which I always love since it gets so many points! ...I may be a bit points obsessed.
Starting in the top left again, first up is the Davines Products -
leave in conditioner
,
conditioner
, &
shampoo
. I realized that maybe I need to re-do my profile because I keep being sent shampoo/conditioner combos. This marks box number 5 in a row. It's a shame because I do want to receive hair products, but I've gotten a little overloaded with shampoo and conditioner. Oh well.
Next is the
Foile de Joie
perfume. I received the same perfume from a mystery pack not too long ago. I wasn't a fan then, but luckily my friend at work loves perfume, so I give them to her. (Note: if you receive an item in your box, you won't receive a duplicate in another box later on.) Next is one of my favorite items in the box, a
Laqa & Co "Lip Lube."
(What a terrible name! Who thought that was a good idea?!) It looks PURPLE in the tube, but it's not quite so vivid on the lips. It's a really nice color and I like the feel of it on my lips. Definitely a win!
Next up is
Supergoop
. It's a good sunscreen, I threw it in my purse. But it's nothing to get excited about. Last but not least is a
Vasanti Exfoling Cleanser
. I love this! I was anxious to use it because my skin is pretty sensitive and reacts oddly to products sometimes. No worries with this though! It left my skin super soft and I'm really excited I got to try it!
I still love my Birchbox Subscription. I'm hoping a little tweak to my profile will solve my overload of shampoo/conditioners! Knowing that I'll get 70 points with this box, it makes the shampoo/conditioner easier to swallow as it means I essentially paid $3 for this box.