After our last
Graze Box
, Geoff and I decided to up from every month to every 2 weeks. I'm so glad we did! I love our tasty snacks! Also good timing because they recently changed the options for receiving boxes to every 2 weeks or every week. I think we're pretty good with every two weeks for now! Since we've moved to every two weeks, I'll probably combine my reviews for every couple boxes.
If you haven't read my other
Graze
reviews, it's a subscription Box for natural and healthy snacks. They're single-portioned and based on your preferences. We left everything in our profile as "try" but you can mark things as "like" or "love" and you'll receive them more often, or "trash" them and never receive them again. There is so much to try, so all of our "trash" items aren't even that we don't like them, it's that we'd be okay not getting them again and want to try other stuff. If you'd like to try Graze, you can use my
friend code
to get your first and fifth box free (I will also get $1 off my next box!)
In this box we received (starting from top left and moving clockwise) Bonnie Oatbakes which are oat cookies that you can dip in an onion marmalade. This was all Geoff, I'm not a huge onion fan. It wasn't his favorite, so this one we marked trash - not bad, just not something we'd want again.
Next is the summer berry flapjacks. Graze's flapjacks make me wish I could order full-size boxes. I love them so much. Bottom right is key lime pie. Not actually pie obviously. Graze has a number of snacks that are healthier options to favorite desserts. I wasn't sure how I would like this - it has lime infused raisins - but it was really tasty! I'm anxious to try some of their other dessert favorites! Last up in this box is Born in the USA, which is a mix of pecans, craisins, & almonds. It was exactly as you expect, so I trashed this option as well. I'd rather receive something new (or more flapjacks!!)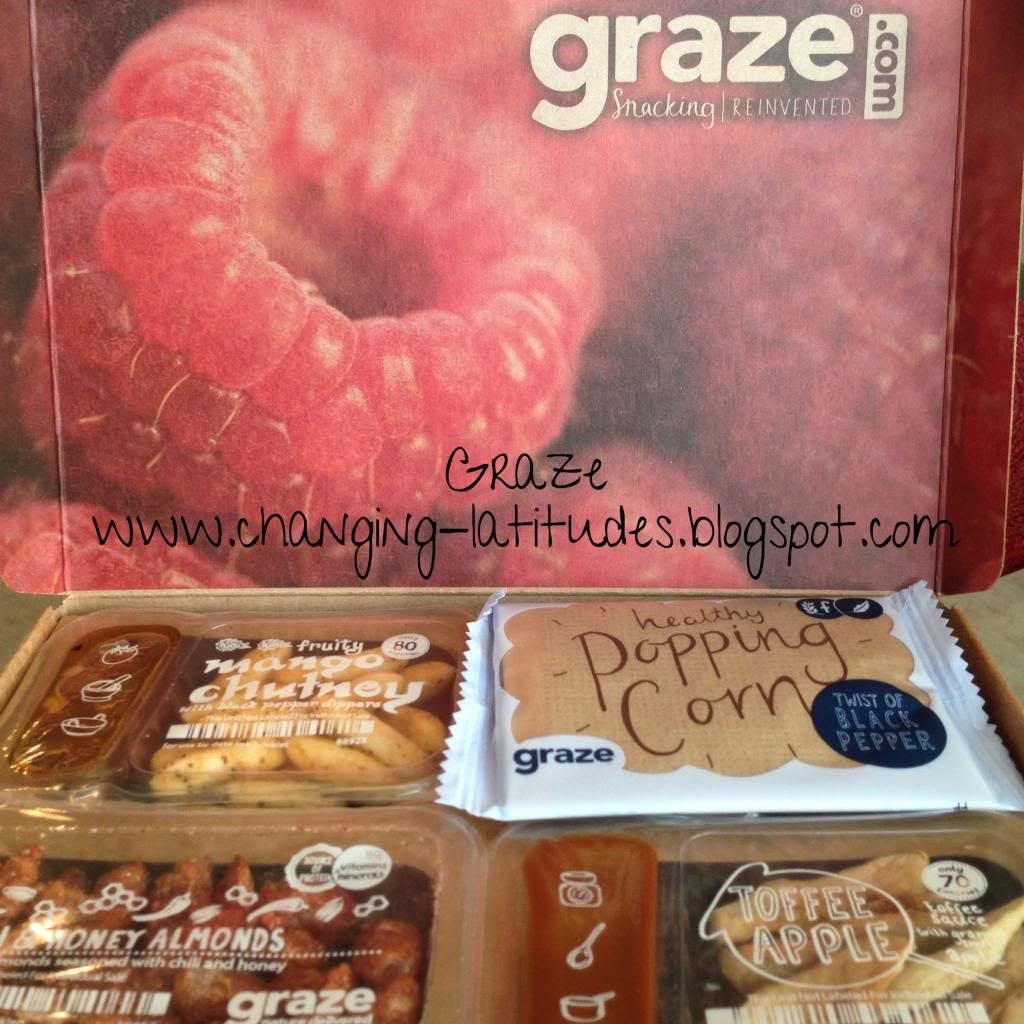 And here's this week's box! Again, starting from the top left, is one of their dipper options with a fruity mango chutney...I'm not a mango fan, so this was all Geoff. He really liked it! Next is their popcorn. The popcorn is a nice sized snack bag. I was a little apprehensive about this because I don't like black pepper (I know it sounds like I don't like a lot, if I were the only one who was receiving this remember that I could have "trashed" anything that wasn't something I like ahead of time and I would have never received it.) Turns out that this was fantastic. I seriously loved it. A nice spice to it without being overpowering.
Bottom right is the toffee apple...which we haven't tried yet. I'm anxious to try it though! It's definitely something that's right up my alley. I would have tried it by now, but Geoff also wants to try it, so it'll probably be eaten this weekend. Finally we have the chili and honey almonds. These were all Geoff and he absolutely loved them! Definitely a win!
We love our Graze box, for $6 (including shipping) it's a great treat every couple of weeks!