Before you ask, no, I didn't sign up for a new Subscription Box! This one you're able to buy just one month at a time.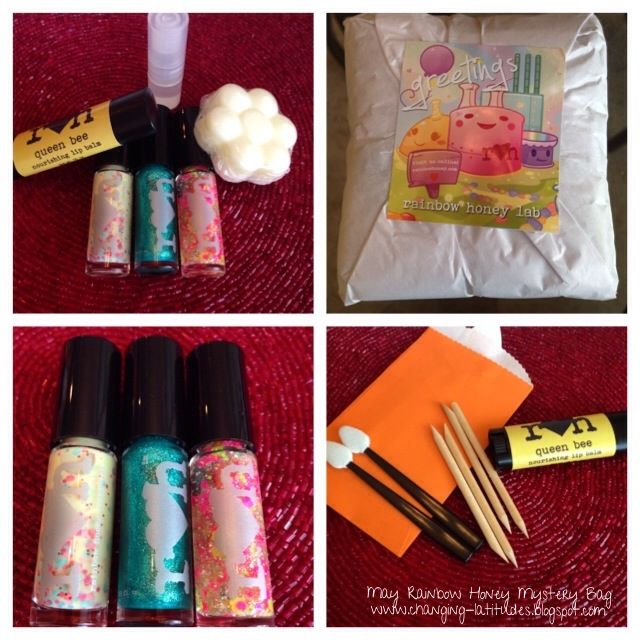 Rainbow Honey is a brand that was featured in April's Ipsy Bag. With every item featured in an Ipsy Bag, there's a special offer that is posted. Rainbow Honey was offering 25% off. Their mystery bags come out once per month and you can choose the mini size for $10 + shipping (which is reasonable!) or the full-size for $25 per month. You can either buy just one (like I did) or sign up for a true subscription. I decided to purchase the mini bag since I love the idea of mini polishes! I mean really, how often do you actually use an entire bottle of polish? I'd rather have lots of options!
In my bag I received 3 polishes (everyone gets this), a Summer Juice soap, Summer Juice roll on perfume, Queen Bee lip balm, cuticle sticks, and some eye shadow applicators. I actually really like the perfume - I'm not a perfume fan in general, but this one is very light and a bright scent - it doesn't overpower you and it doesn't give me an instant migraine (so long as I don't put it on my neck and just keep it to my wrists at least.)
Really, I bought the bag for the polish, everything else is just gravy. The polishes received this month were Petit Four (the yellow one), Waves (the green one), and Neon Blossom (the glitter top coat.)
I couldn't decide which color to use, so I used them all! After wearing them for close to a week (I painted them Monday night when I received the bag) they didn't start to chip until Saturday morning, which I think is pretty good! The Petit-Four was ridiculous to take off, the little confetti pieces didn't want to move (I bought pure acetone now that I've started to wear glitter polishes. It works much better than regular nail-polish remover and I still had trouble with the Petit-Four!) While I liked the yellow, I'm not sure I would wear it on my nails again unless it was Easter. It was a little twee. Though I think it would be adorable on my toes.
Waves I adored. It's a beautiful color with a great shimmer. The Neon Blossom looks awesome over it too! The Neon Blossom came off a lot easier than the Petit-Four!
All in all, I loved my
Mystery Bag
. The formula on the polish was great, and I loved the fun colors! I'll definitely be buying it again in the future, even if I don't purchase the monthly subscription (I love that I can purchase just one!)