Thursday was a pretty exciting day in our house. Geoff came home from California and my Birchbox arrived! My pictures are a little better this month, but I still need to work on them!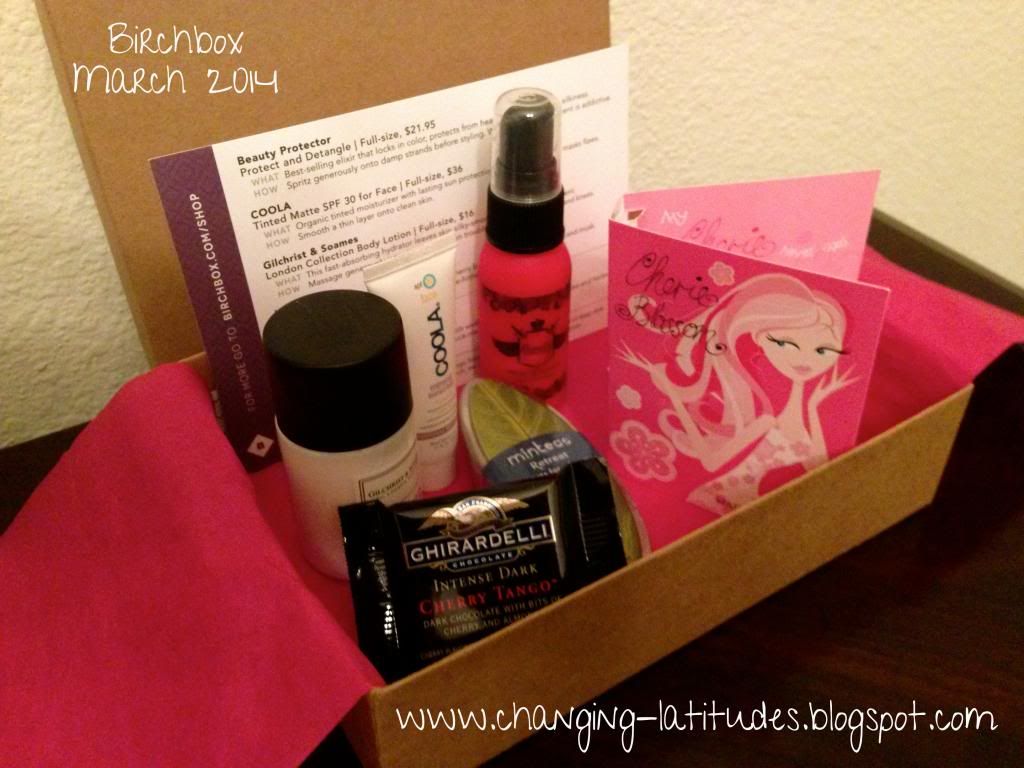 I got the tracking number on Tuesday and it said it was probably going to be delivered on the 10th or 11th (still good as the company promises to
ship
by the 10th!) Then I saw the beautiful box in my mailbox on Thursday! What a treat!
A quick review of
Birchbox
in case you've never heard of it... It's a $10 monthly subscription. They send you samples of nice brands once per month. You fill out a beauty profile and they send you products based on that. You can see my February Box
here
.
As soon as I opened the lid, I knew it was going to be a good box as it was totally full!
I got a total of 6 items this month! Normally it's 4 or 5. This is probably my favorite box to date.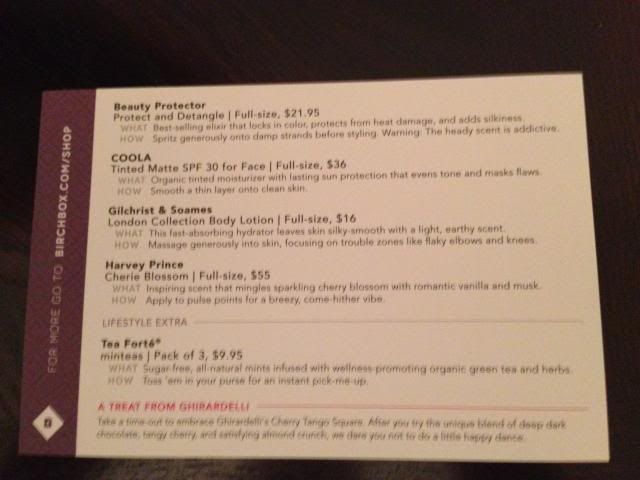 Each box comes with a card that details what you received that month and how to use it. I really like that they include how to use it, since some of the products are totally new to me and I would have no idea otherwise!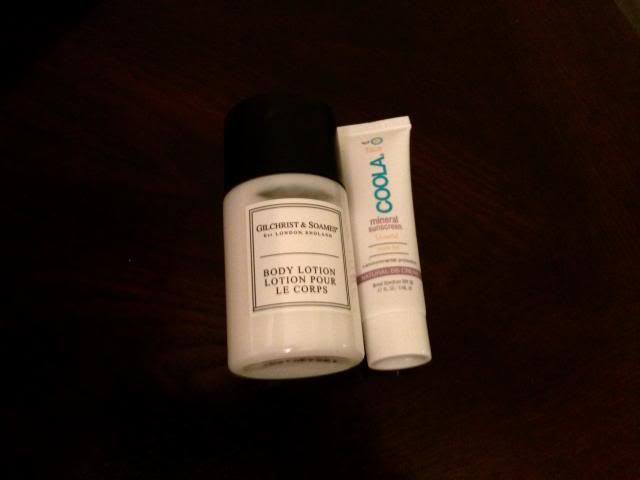 To start with, I received
Gilchrist & Soames Body Lotion
and
Coola Tinted Moisturizer
. Both of these items were part of their spoiler post and I was happy to get them! The lotion is a good lotion, but I'm not sure about the scent, it's a little flowery. When my lotions at work are used up, I'll probably bring this in to replace them. The tinted moisturizer is a BB Cream. It's 30 SPF, which is great for living in Florida! I use Urban Decay Naked foundation, which doesn't have an SPF in it. I use their BB Cream under my makeup for when I'm going to be out in the sun all day, but it's only 20 SPF. Urban Decay's has much more of a tint to it, which is great when I don't wear any other make-up over it. The Coola is a very beige shade - perfect for my skin tone and it felt like I was putting silk on my face. I absolutely love it. When I run low on the Urban Decay one, I'll probably replace it with this one.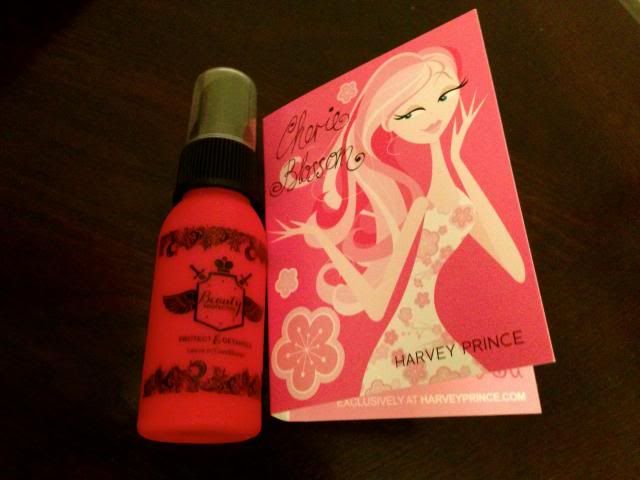 Next in my box I received
Harvey Prince Cherie Blossom
perfume &
Beauty Protector Protect and Detangle
leave-in conditioner. I'm not a huge perfume fan - too much scent overwhelms me and causes migraines, so I like to stick to slightly scented lotions instead of full on perfume. I also have had allergic reactions to perfume in the past, so I didn't even try this. My coworker absolutely loves perfumes though, so I brought it in and gave it to her. I know some people get a lot of perfume samples in their Birchboxes, but this is the first one I've received and this was my 7th box. So I'm okay with that. And I'm glad it came in a box that had so much other stuff! As for the leave in conditioner, I was super excited to get this! I love getting stuff for my hair, it's probably the one thing that I'm more experimental with than anything else. In my very first Birchbox I received shampoo & conditioner from this same company that I loved. So far I'm really liking the spray too, though it's only Day 2 using it. The pump on the bottle was broken, but I had another similar size bottle that I was finished with, so I just swapped the caps.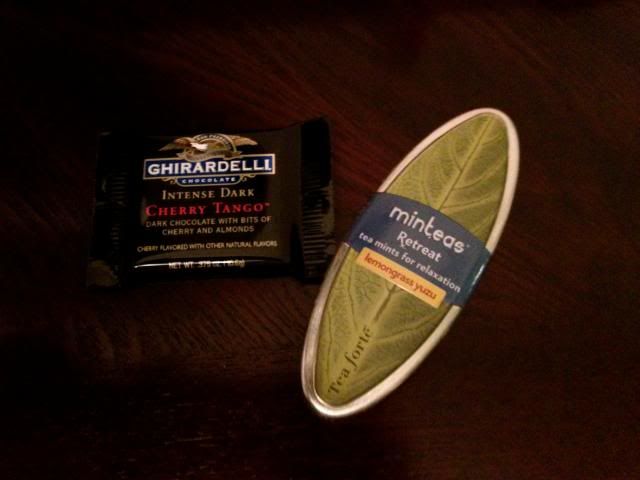 I got two edibles in my box this month. The
Ghiradelli Chocolate
was "Cherry Tango" and the mints were
Tea Forte minteas
. The chocolate I gave to Geoff. I love dark chocolate, but I'm not a huge cherry fan (unless you're talking cherry Starbursts or Jolly Ranchers!) He liked it, but what's not to like about chocolate?! The mints are awesome. I'm not sure I would order them online, but if I saw them in a store, I would buy them. It's a nice size tin to sample too!
Overall, I really loved this months box. There was a lot to it and a lot of variety. Really happy with it!
I'm excited to get my Ipsy bag (should be in another week or so - they ship mid-month) to compare the two!