Just for fun, I thought I would start putting up reviews of my Birchbox each month. I like seeing what everyone else received, so why not!
If you're unfamiliar with
Birchbox
(referral link if you're interested) it's a monthly subscription service. Once a month I receive a box with fun samples to try - usually 4-5 plus a lifestyle "extra." It's $10 and includes shipping. You set up a beauty profile and I really recommend playing with if you're not crazy about what you're getting. It asks you about your hair, skin, what you love, your proficiency with beauty products, and what your style is. My coworker also gets Birchbox and her box was completely different than mine except for one item.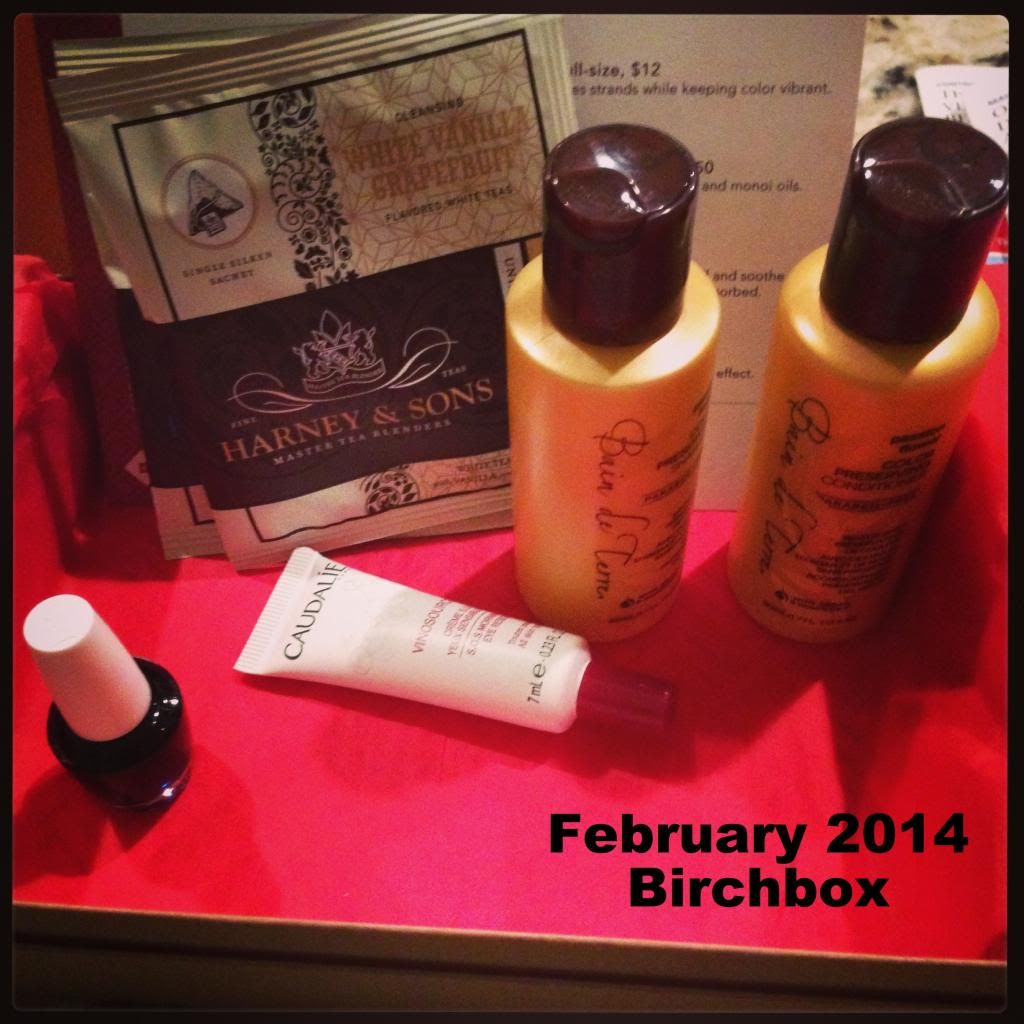 I promise to take better pictures next month!
In the bottom left, I got OPI Sheer Tints Color-Tinted Top Coat in Teal. This was the one overlap item with my coworker. I was pretty excited to receive it too. It sounds like something that I'd love, and I might have picked up the full sized version, so I was happy to be able to try it first. They said you could use it either on its own or as a true top coat....on its own it looks like I'm either freezing or was bruised. I probably would have liked it better in a different color. Still really happy it came in my box, but probably won't be buying the full size.
The tube is Caudalie S.O.S. Morning Eye Rescue. In an earlier box I received a hand lotion by this same company that I love. Since I have dark circles under my eyes, I was anxious to try this. I've used it for a few mornings now and haven't really noticed anything different, but I'm going to give it a few more days before I make any conclusions. If it works, I'll be buying the full size version!
The bottles are Bain de Terre passion flower Color Preserving Shampoo & Conditioner (so technically two separate samples.) I love getting samples of shampoo & conditioner since I'm cheap and don't like buying the expensive kind. I haven't tried these yet, I have a hair appointment on my birthday (end of the month) and I'm getting my hair dyed, so I'll use these after I get it done since they're specifically for color-treated hair.
Finally, my "lifestyle" extra this month was Harney & Sons Wrapped Tea Sachets. I am a tea drinker, so I was happy to see the tea. I received a black tea & a white tea. I usually drink herbal teas to avoid caffeine, but it's nice to have a little caffeine around in case it's a rough morning! So far I've tried the white tea, but it wasn't my favorite flavor. I'm a fan of Adagio teas, and I'll probably keep going there for my tea.
All in all, I liked my box this month. It came with items that I was excited to try. I adjusted my beauty profile in December after getting a ton of skincare samples which I wasn't crazy about. Both my January and February boxes have been more "me." Til next month!