Since the majority of our Sea Days included a lot of being lazy, I decided to combine the end of our trip into one post.
Day 6 of our cruise involved sleeping in, reading in our cabin and out on the balcony, and then going to the Main Dining Room for Brunch. We decided to go a little later on this day so we could try more of the lunch options. Honestly, I thought they did a better job with Brunch than Dinner. I got the mac & cheese (I'm sure this comes as a shock to no one) and Geoff got the Steak and Eggs. Both options were really tasty.
Our next stop was to grab our books and head up to the Lido deck. One of the things we liked on the ship was the Serenity Adults-only space. We were able to find a shady spot to curl up a read for a bit. It was crowded up there since it was a Sea Day, but there were still plenty of chairs available.
Mid-afternoon they were doing the ice sculpting display. We grabbed some ice cream for a snack and watched.
It was pretty impressive to see how quickly he worked (had to work really) to make it.
Then it was nap time (I warned you we were super lazy!) We escaped to our cabin for some quiet away from crowds...one of the reasons I like a balcony cabin, you can get away from crowds but still enjoy the fact you're on a cruise.
Tonight was the second formal night. I wanted to take a nice photo so we'd have it. My plan was quickly dashed after seeing Carnival's random backdrops and props to take their professional photos. I really just wanted a normal, nice back-dropped, nicely lighted photo. Instead they had fireworks in the background, or they placed you on a bench in a most unnatural position. Oh well, we took a couple and hoped that they would turn out okay (no cost to take a photo, just to buy.) We also tried to get a guy to take a picture of us in the atrium, which is horribly lighted, so it came out terrible (he also tried to shoot it from about waist high and it was most unflattering.) Before dinner, we went to the show, where my favorite photo of the night was taken...a selfie! So much for having a cute dress that somewhat matched his shirt!!
You'll also notice that Carnival's formal night isn't that formal. We were dressed pretty appropriately, no jackets are required. Some men were wearing suits, but then I also saw people in shorts, sooo...I guess it doesn't really matter. Tonight's dinner was actually the best one we had - we both had the chateaubriand. It was cooked perfectly (a nice medium-rare) and the flavor was great.
Our evening friend:
Day 7 marked the last full day on the cruise. It was again pretty lazy. We started with a quick breakfast up on the Lido, laying out in the sun reading for me - in the shade for Geoff. Then lunch again on the Lido.
The afternoon we spent inside on the ship - there were a few trivia games and at some point a towel folding class! Yes please! I brought out my inner child and was actually pretty excited about it. We learned how to make 4 different towel animals, and of course they were pushing their book (which I didn't buy, because I have the internet.)
Making the body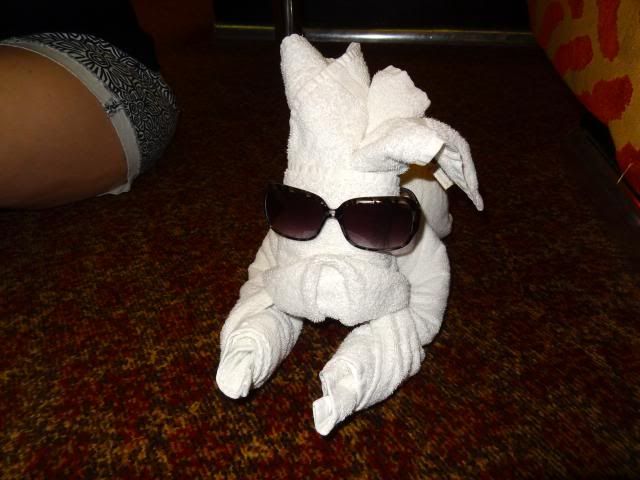 Ta da!
One of the things we thought was hysterical were the pictures hanging in the main staircase. They were "Dream" themed and seriously cracked out. We took a picture of all of them, but here are our two favorites.
Polar Bears Dancing, my favorite
Dogs running with wolf and frisbee by moonlight, Geoff's favorite
Before dinner we packed everything up. You have the option to self-assist and carry your bags off the ship (this allows you to leave earlier too) or put your bags outside your door the night before and they'll be waiting for you when you get off - just be sure to keep your clothes for the next day with you!
Edit:
I forgot to mention - those pictures we took the night before? We went to the gallery to look and see if any came out. One was pretty decent and we went to buy it. Now, they print out all the pictures. I fail to understand the logic behind this...it's a digital age and all the photos they're taking are on digital cameras. It's not like they're using film cameras. But I digress, the photos that were printed out were all 8x10s. I have zero use for an 8x10, but really wanted a 5x7. The 8x10 was something close to $30. (Yes, $30! For a photo!) But I didn't want that size, I wanted a different size. When I inquired about getting a 5x7 of that photo, I was told that I needed to buy the 8x10 and then they'd print out the 5x7 for an additional cost. HAH! Yeah, no. So I recycled the photos. What a waste! I can't understand why they haven't moved to a digital system where you can pick the photo, and size (or digital copy that they can email you like we live in the 21st century.) Imagine the cost savings!!
Dinner was really nothing special that night. Geoff had a burger and I had mac & cheese - which I thought would be the same as what they had at the Brunch, but it was not and pretty lackluster. One more comedy show, then it was time for bed.
By the time we woke up the next morning, we were already in Port. Geoff and I grabbed our bag, texted our friend when we'd be off the ship, and went up for some breakfast. We hung out on the Lido deck until our number was called. We found the pick-up area pretty easily and pretty soon our friend was pulling up to take us home. 30 minutes later, we were home!
I'll post my overall thoughts on the cruise in a later post.