Moving on to our first Sea Day...we did just about nothing. And it was glorious. We slept in a little bit (so you know, until 8.) We held off on breakfast long enough to check out the brunch in the Main Dining Rooms. There was a bit of a line to get in but it moved fast enough - plus we were okay sitting with people.
We were seated with an older couple from the same town my parents live in here in Florida - small world! I had the Eggs Benedict and Geoff had a cereal encrusted French Toast. Mine was the winner - the cereal (Honey Nut Cheerios) tasted rather stale on Geoff's French Toast.
The rest of the day consisted of laying around (in the shade, because we're both super pale) reading, relaxing, and a little bit of trivia playing around the ship. It was glorious to relax that much. I'm pretty sure there were a few naps involved as well.
While changing for dinner I stepped outside to view the sunset. The colors were amazing, even if this photo doesn't do it justice.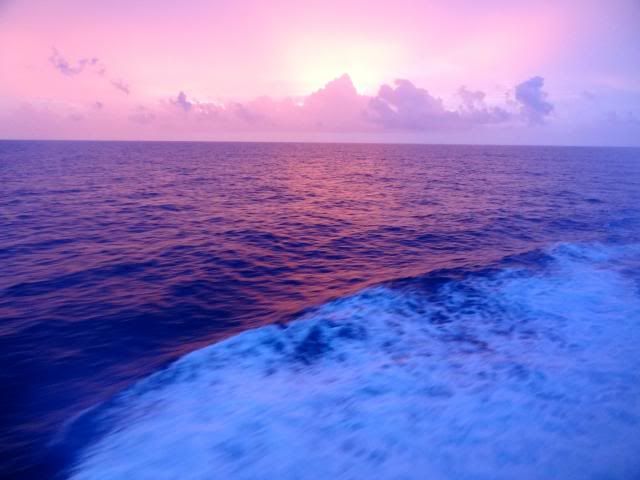 Dinner tonight was good - our tablemates never showed up. Geoff had the jerk pork chop and I tried something a little different and went with the polenta. Both were good, the pork chops were one of Geoff's favorites on the cruise.
After dinner we went up a floor to the Comedy Club. This was one of the things we loved about the Dream - they had a dedicated area for stand up comedians. It was really a good space. I didn't really like that in between comedians they had to clear the area and everyone had to get back in line though. I get why they do it, but it wasn't my favorite.