We woke up pretty early - the only downside of the first day of vacation is that your body hasn't quite caught onto the idea yet! It was also the end of Daylight Savings Time, so we fell back an hour the night before.
As we were getting ready, we were pulling into Nassau. I took a few pictures from our balcony as we pulled in.
As you can see, there were already a number of ships in port today. We were scheduled to be there from 8am until 2pm. My family used to travel to Paradise Island about every other year growing up, so I'm fairly familiar with the area. Because of the limited time, we opted to do some exploring on our own versus doing an official excursion. It was Geoff's first time to Nassau.
We went up to the Lido to grab breakfast and watch us finish docking. I took one of my favorite pictures from there: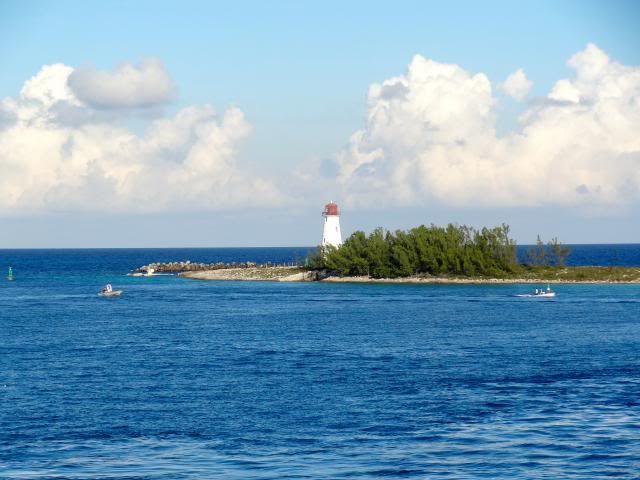 This is the lighthouse at the end of Paradise Island. Since we went up to the Lido, we obviously just did the buffet for breakfast. The line was really long, but we figured most people were up since we had a limited amount of time in Port and because of the time change. The food was okay - the eggs were awful though. Later in the cruise I stuck with omelettes. The line also took forever because they had a Carnival employee dishing out bacon - I understand why, if left to their own devices, people would eat all the bacon. But she was super distracted (every morning) so the line moved super slow at the buffet.
Anyway, food in hand we easily found a table and enjoyed our first morning on the cruise. Since our ship was fairly big, we could also easily see the Lido decks of the other ships in Port (except the Oasis, obviously) which was fun to be nosy.
There was a Rum Distillery,
John Watling's
, our friends had told us about that we planned on hitting up while in Nassau. They opened at 10am, so we weren't in any hurry to get off the ship. We eventually got off and began our walk - I think it was about 2 km from the Cruise Port. Not too bad. Our walk took us by
Greycliff
, so we stopped in and explored their grounds - they have beautiful gardens.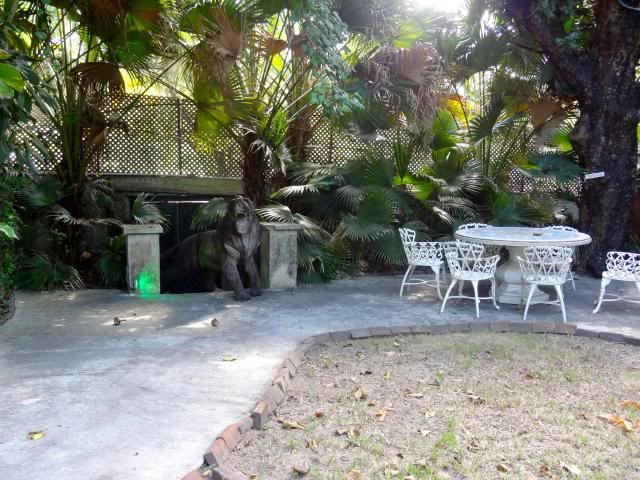 But our pictures didn't do them any justice... We were running a little early and we passed by the
National Art Gallery of the Bahamas
.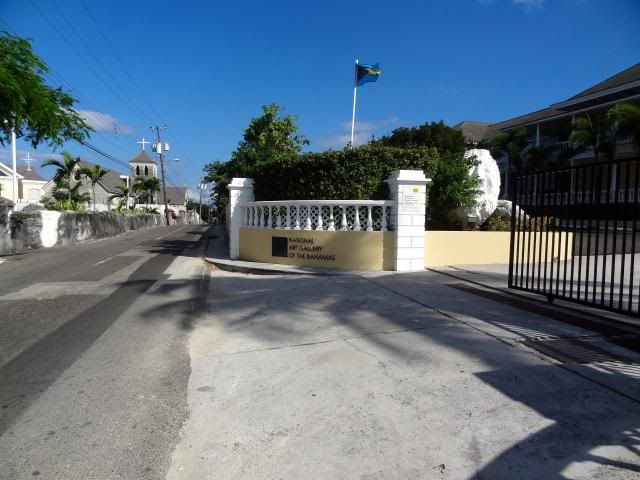 The hours say they don't open until noon, but the security guard let us in anyway. It's $5 admission. We were the only ones there...since they weren't technically open yet, which was nice because we could really take our time. We found it absolutely fascinating as you could see as we've become a more global society how art from other countries influenced their art. It went from realistic, bright paintings to more abstract art. If you have some time to kill, it's a nice way to do it - plus the grounds are beautiful.
By the time we were done, the Distillery was open! Horray!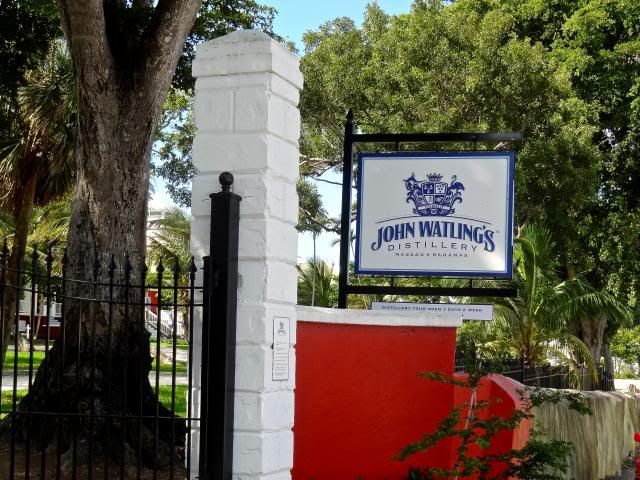 ...Speaking of beautiful grounds, this place was gorgeous!
You enter through the main door of the house and begin a walking tour. It takes you through the history of Rum in the Bahamas, then outside and it begins describing their process. Take your time to go through the history, it's really interesting.
Out the back, the buildings house the distillery

After the tour is finished, you head back into the main building where you can taste, they have a gift shop, and a bar for mixed drinks.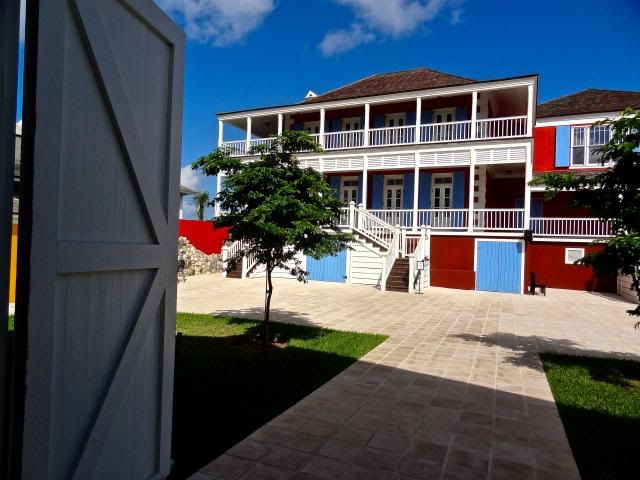 Seriously, so pretty.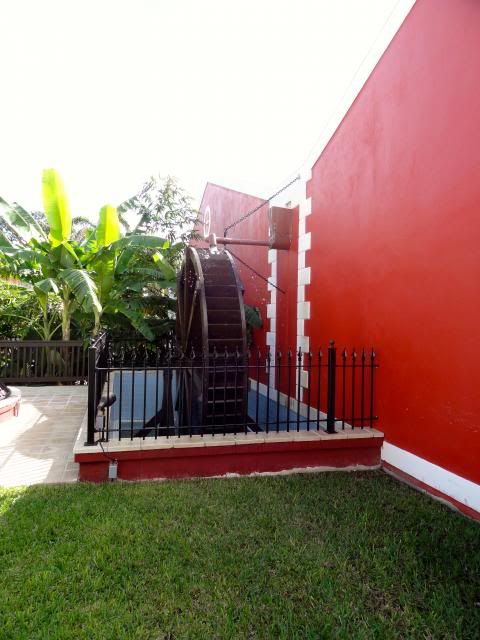 We tried their various rums, and then got some drinks at the bar. Geoff opted for a Mojito and since we were in the Bahamas, I got a Bahama Mama...obviously.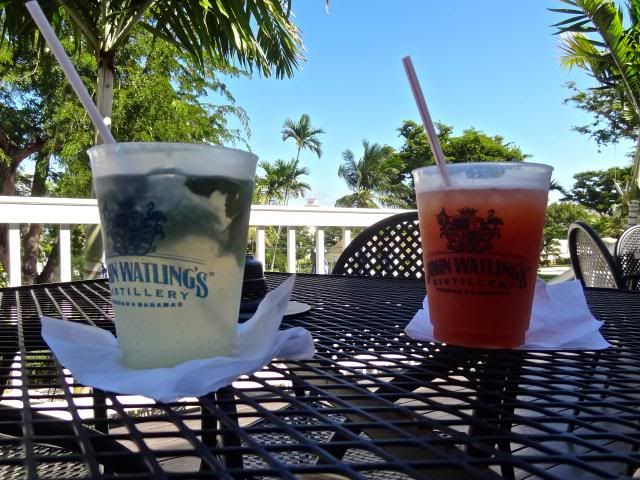 They have tables both inside and outside. While it was a fairly warm day, it was gorgeous in the shade. So we took our drinks outside to enjoy the weather. Now, these were *very* strong drinks - obviously this place wasn't selling mixers, they were selling rum, And it was 10:30 or so in the morning. And we don't drink that much. We were a little tipsy when we left, but very very happy.
We stumbled our way back and did a little looking around downtown, but there wasn't anything we particularly wanted. Of course since Geoff hadn't visited before, we went through the Straw Market. We were getting back on the ship a little after noon. We went up to get some lunch, I had the Pasta Bar (which I really liked - I'm not a huge fan of buffets, so I liked that I could order something and have it made sort of fresh) and Geoff did the mongolian grill.
I took zero pictures in the afternoon. I'm pretty sure we took a nap and read for a bit. It was lazy and wonderful. Eventually we made our way up to the taste bar for a snack before dinner. It was formal night, so we dressed up a bit - no pictures from that either. We sat in for some of the show before dinner. It was lobster night. Which meant we spent most of dinner convincing our waiter that only one tail really was enough. We asked him what the most someone has ordered and he said one guy had 7 lobster tails and then finished it off with prime rib. Talk about a ton of food!