The first week in November brought about our long-awaited vacation. The first actual vacation we've taken since moving to Florida. Up until now, all of our travel was family/wedding related. We were looking forward to getting away and relaxing!
I had done a lot of research on cruises that leave from Florida over the summer, and we finally settled on the Carnival Dream in August. There were two main reasons this cruise won; first, it left from Port Canaveral - yes, we drove 30 minutes and hopped on a cruise. Second, we got a fantastic deal on a balcony stateroom for being Florida residents.
We left Saturday, November 2, and returned November 9. It was an Eastern Caribbean and we stopped at Nassau, St Thomas, & St Martin.
Now that all the details are out of the way, I'll start the adventure!
Since we were leaving from a Port so close to home, we were really able to take our time the morning of the cruise. We left everything until that morning. Poor Bandit could sense that something was amiss.
We hadn't even pulled out the suitcases before he was hiding under the table! While Geoff left to take him to the kennel, I pulled out the suitcases to pack.
Not too bad for a week's cruise! The small suitcase just held a case of water and wine we were bringing on board!
Our friend, Phil, had graciously volunteered to take us up to the Port and pick us up when we returned. To thank him, we bought him lunch at our favorite restaurant at the Port, Seafood Atlantic.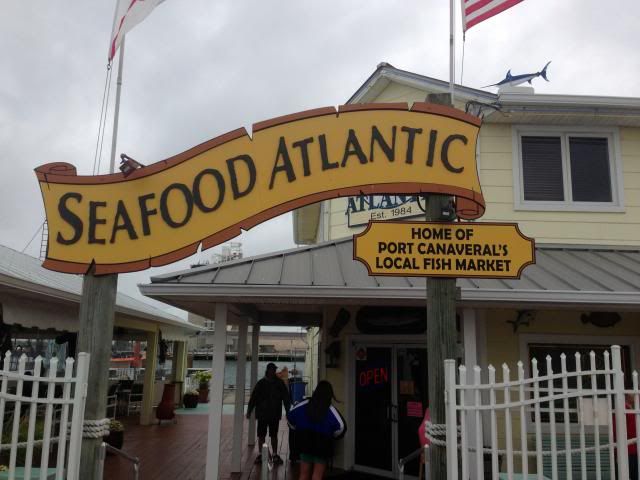 It was kind of a gray and chilly day - but that seems to be standard when we leave on cruises. And don't feel too bad, remember that "chilly" to us is still pretty warm!
After a wonderful, like always, lunch, we were headed over to the ship! Since we were boarding a little later (around 1:30), we hardly had any wait to get checked in and boarded. Everything moved really efficiently.
Another plus for boarding later is that our room was already ready, so we were able to stop by and drop off our bag (a case of water and two bottle of wine is not something you really want to carry for longer than necessary!)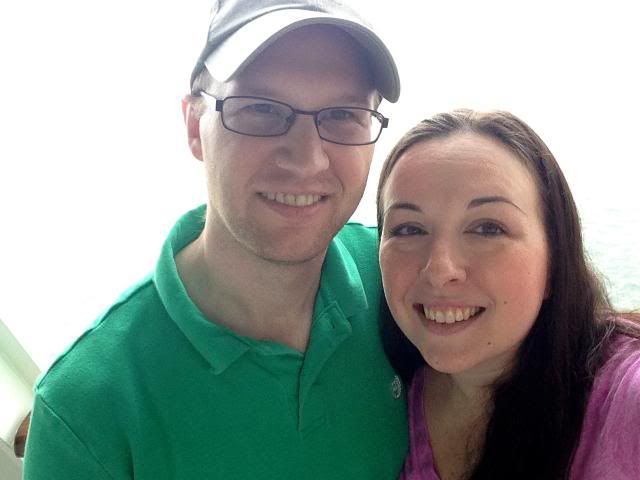 On the balcony after boarding
For this cruise we booked a Cove Balcony. It's a balcony cabin that is on the 2nd deck of the ship, so it's about as close to the water as you're going to get on a big ship like this.
We liked the Cove Balcony for it's location and for how close to the water we were. I really enjoyed watching the waves crash against the bow of the ship throughout our cruise.
After dropping off our bag and checking out the room, we went exploring around the ship.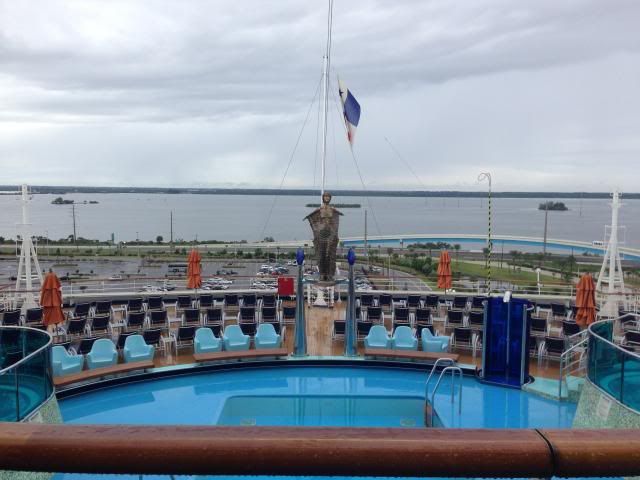 Not too many people using the pool that day!
I'm not a huge fan of the layout on the Dream - it's a little confusing. But before too long we found our way around. Before we knew it, it was time for Muster. On this ship, Muster was held in inside venues instead of outside at the lifeboats. I do like this set up better, though it makes me wonder how prepared everyone is if there really is an emergency.
After Muster it was time for sail-away! We headed up to the Lido deck and I participated in some of the festivities.
We also made our way over to the edge of the ship to watch the pilot take us out of the channel.
It was really interesting to see everything from the ship since we were so familiar with the area!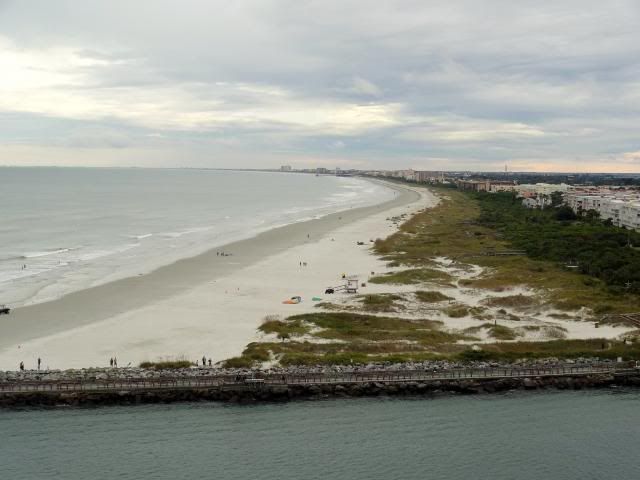 Jetty Park
Eventually we headed back to the room and unpacked our luggage that was delivered until dinner. We opted for late dining (we think there are fewer families with small children that choose late dining.) We were seated at a 6-top immediately inside the restaurant. We were supposed to have another couple join us, but they never did. So the entire time we had the huge table to ourselves. There were a lot of empty seats in the dining room. We were surprised they never wanted to move us.
Dinner tonight was sweet & sour shrimp for Geoff and Chicken a la Greque for me. Everything was alright, but nothing too exciting.