On October 26, I met my Mom up at Epcot for a little Food & Wine craziness. My standard advice is to avoid attending Food & Wine Festival on weekends if at all possible. If you must attend, get there as soon as the World Showcase opens (11am, but some booths open a little early) and try to wrap up the Food & Wine portion of your day by 2pm or so.
I got to the park around 10am and my Mom met me about noon. I did a little exploring on my own and right before 11am, headed over to the World Showcase. Now, today was also one of the first weekends we had that the weather was comfortable and gorgeous...which meant I was really expecting a lot of crowds. So I went in with a plan of attack: since I only had one day, I wrote down some of the new things that I wanted to try. I really didn't want to just go back to my favorites they have every year and be unable to try anything new since I was filled up. As I did last year, I'll also rate each dish on a scale of 1-5.
Scotland
This booth was pretty easy to find new things - the whole booth was new!
perfectly
and it came with a cauliflower puree that makes me think that maybe I do like cauliflower. There was a malt vinaigrette on the puree that gave it just the right amount of tang. Absolutely delicious, definitely a 5! I would love to eat a full portion of this for dinner.
France
I realized by the time I walked around to France that if I kept up my pace, I would be done before my Mom even got to Epcot. So I stopped a slowed down a bit.
New Zealand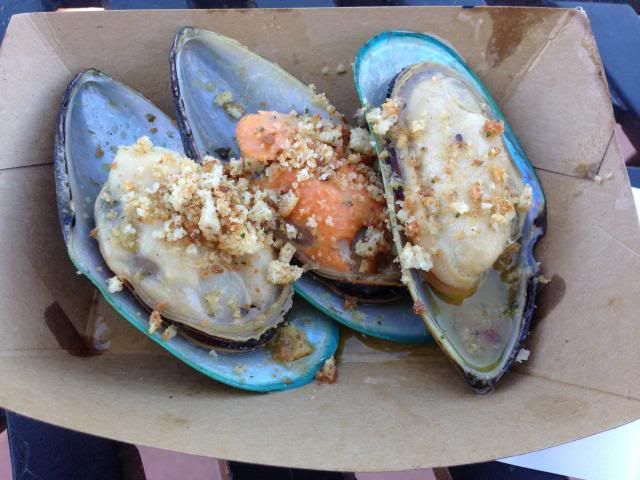 As I was moseying towards Morocco, I had a text from my Mom that she just parked and was heading my way. As she got closer, I got in line at New Zealand for some Mussels.
These...were not so great. They were exceedingly chewy and had very little flavor. Definitely a 1. I know that's pretty extreme, but I didn't even finish them, I wound up tossing the rest. So far, mussels at Food & Wine have been rather disappointing. Maybe I'll learn not to get them next year.
Florida Local
It's not a very adventurous option. I don't remember if I took a bite, but she seemed to enjoy it. ...moving on...
Chase Lounge
View from Upstairs
The Festival has been sponsored by Chase for a few years now. One of things they do is host a lounge for all Chase Card holders. This year's was upstairs at the American Pavilion. And you
know
I am not going to miss a chance to check out a place that is usually closed to the public.
In the Lounge they have free soda & water, plus a bar to buy drinks if you want. They have some tables set up to relax at, some charging stations for your phones, a TV that was playing a Soccer game with some comfy chairs, bathrooms, and of course, air conditioning. If you have a Disney Chase Visa, you can also get wristbands for guaranteed seating to that evening's concerts. It was a pretty nice area. I'm hoping they'll have it there again next year. You can either take the stairs up 3 flights (which we did) or take the elevator.
Hops & Barley
One of the things on my Mom's list to try was the Lobster Tail at Hops & Barley. After exiting the Lounge, that was our next stop.
Cheese
I had to try the Blue Cheese Souffle with Fig Jam. If there were ever a food that screamed me, it would be this. My biggest pet peeve with blue cheese foods (Disney is a big offender of this) is when the blue cheese is so mild you can hardly tell you're eating blue cheese. This? Was not that. It was rich, and smacks you in the face with blue cheese. The fig jam tempered that with a slight sweetness. And the wine from the lobster pairing? Was ah-mazing with this. I loved this. Definitely another 5.
Australia
I had the grilled shrimp on my list to try, and my Mom wanted the lamb chop. To Australia we went!
Refreshment Port
Unlike other years, this year, the Refreshment Port was getting in on the Food & Wine action. I saw one menu item that really stood out to me and I knew I had to get.
Wrap-Up
After that stop, the crowds were starting to pick up immensely, so we headed to the front of the park. All in all, we had a great day. I loved the dishes that were added to the Festival and wasn't disappointed (except for the mussels, but I'm ignoring them.) As mentioned at the beginning of this post, I recommend that if you have no other choice but to do Food & Wine on a weekend, get there early and leave when the crowds pick up...it's my biggest piece of advice for the Festival.
Until next year!