When we went up to visit Epcot the other week, we had lunch at Biergarten as part of the Candlelight Processional package. We opted to do the package so we would not have to wait in line for over an hour to see the Processional.
In case you're unfamiliar with the package, here's how it works: there are a limited amount of lunch and/or dinner packages at the restaurants in Epcot. They are a fixed cost and give you an appetizer, entree, and dessert, as well as a soft drink...or in the case of Biergarten, a full buffet. Most of these packages get snapped up pretty quickly regardless of their obscene prices. Since we had decided only earlier in the week to do the Processional, our options were limited. Biergarten was one of the selections, which worked out well for us since it was at the top of our list (a mere $35 per person for lunch instead of $60. Yes, I'm serious.) Biergarten normally runs about $25, so it wasn't a terrible deal - especially since $10 per person more meant we were guaranteed seats. The package includes guaranteed seating at the Processional as well as a special place to watch Illuminations that evening. We did not stay for Illuminations, so I can't comment on that.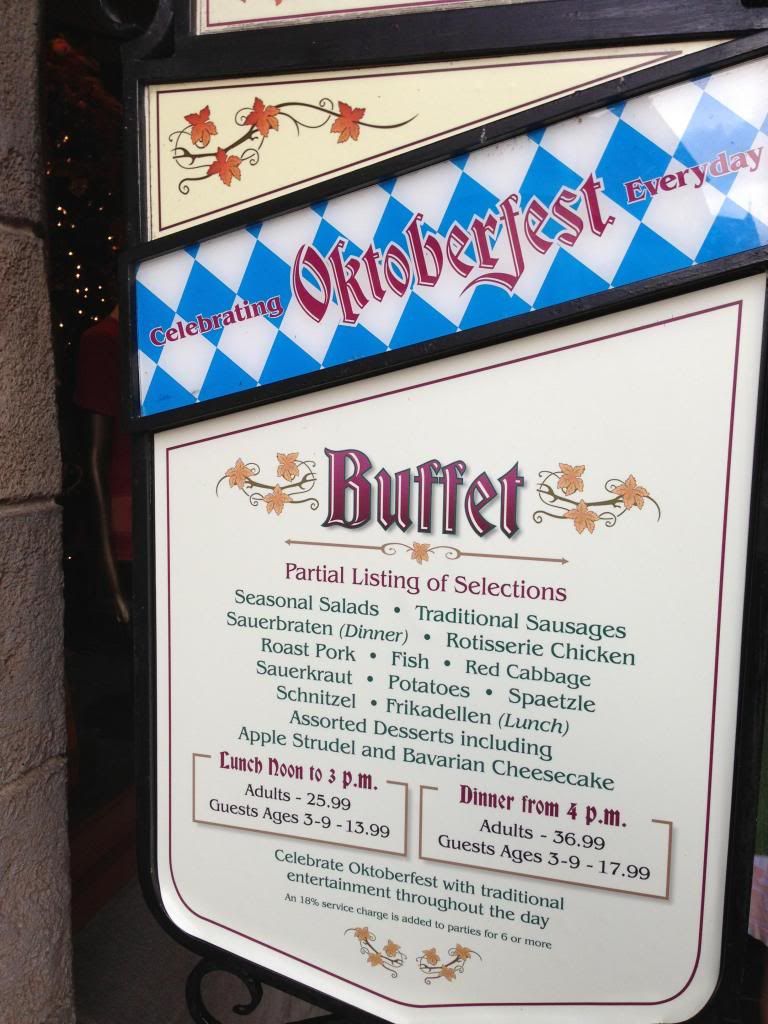 Menu
In case you haven't picked up on it yet, Biergarten is a buffet. The options are German classics: sausage, pork, sausage, sauerkraut, sausage, spaetzle, and beer. Actually, the beer isn't included in the price, that's extra.
After checking in at the hostess stand and your pager goes off, you're escorted through these doors and transported into a small village celebrating Oktoberfest...and in our case Christmas. Yes, they don't happen at the same time usually, but this is Disney - just go with it.
Stage
Since it is Oktoberfest, you're sharing your table with other people - unless of course you have a big group. Most tables are for 8, but there are some for 6. None of our tablemates showed up when their pager went off, so we were led to the table first. Geoff opted for beer (only a half liter, party pooper!) and I got a Diet Coke (okay, I'm not one to speak.) Then it was off to the buffet!
Rolls, for display only
The last time I was at Biergarten was about 2 years ago and the lines for the buffet were ridiculously long. There was a short line on our first trip up, but I think it had more to do with the idiots in front of us than anything. So that's good.
German food
Generally speaking, I'm not a huge fan of buffets. I make an exception for Disney buffets. They tend to move enough people through that they're able to refill fairly frequently. Overall, the food was very tasty. It helps that I'm a fan of German food. If you're a vegetarian, I'm not sure I would recommend Biergarten. But if you like meat - specifically sausage, you'll be good here. My favorite item was probably the soup, it was a cheddar beer soup that was out of this world delicious.
During your meal, at some point you'll have an opportunity to check out the band.
They play German classics (or what I assume are German classics), some Polka, and on this particular trip, some Christmas songs! When I was in High School, every year our choir would sing Silent Night in German, so it was neat to hear that...also a little scary that I still knew the words!
And last, but certainly not least, dessert!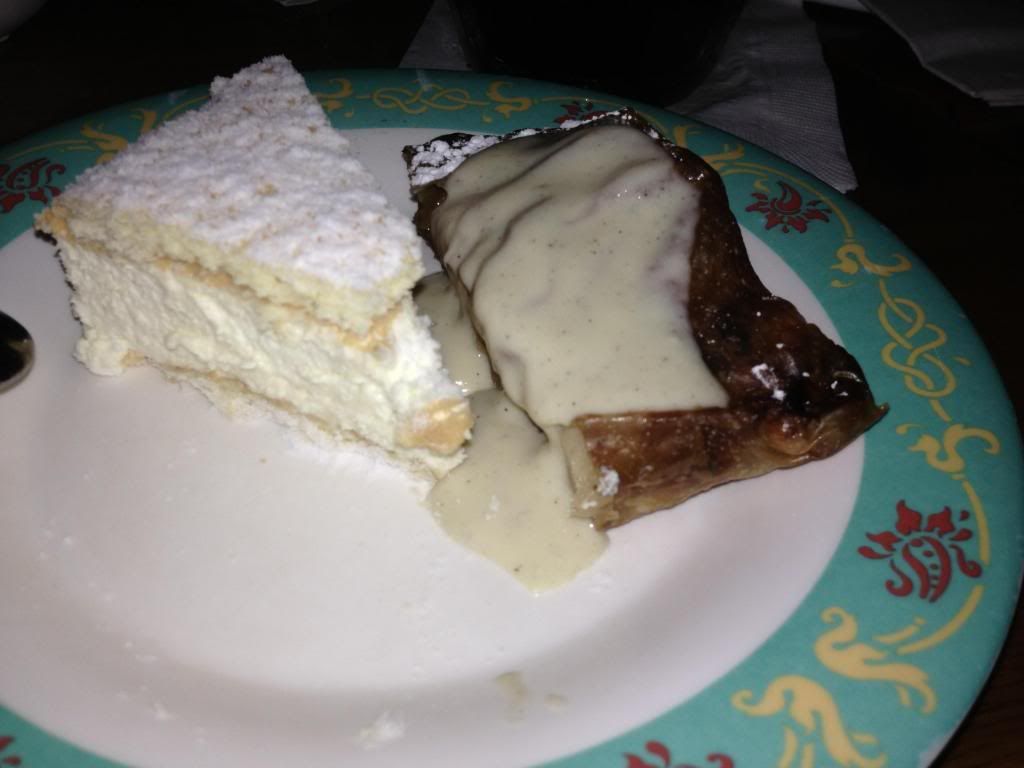 Bavarian Cheesecake and Apple Strudel
I love love love the Bavarian Cheesecake...there may have been two of them on my plate before I remembered to take a picture. In any case, desserts are also offered and they are delicious as well. We pretty much rolled ourselves out.
So in conclusion, I would never hesitate to book the Biergarten. And in the case of the Processional, lunch at Biergarten is easily your best option.