Since we had gotten our fill of tasty snacks at Food & Wine Festival the day before, we decided to head over to Universal for the last day of our trip instead. Shake things up a bit.
We had done some research and knew that we would at least get Seasonal Passes to Universal - if you go twice in a year, it's worth it. We decided that morning to get Geoff a full Annual Pass. Mainly for the parking since we may go up just for lunch/dinner at City Walk.
After we had our passes in hand, our first stop was Harry Potter Land!
Islands of Adventure
Hogwarts!
We've been to Harry Potter before, so we were just exploring a bit. The ride inside the castle isn't my favorite. I discovered though that you can ask to just go on a Castle Tour, which allows you to go through the line without getting on the ride - so great!
Hogwarts
Inside
We did go on Dueling Dragons - Geoff survived quite nicely, even though he hates roller coasters. It's a little sad they can no longer race.
For lunch we hit up Three Broomsticks. They have a good set-up there. It seems like it's what they modeled Be Our Guest at New Fantasyland after. You get in line and are directed to a register. From there you go to a designated pick-up area, then are directed to a seat.
Geoff opted for the Fish & Chips: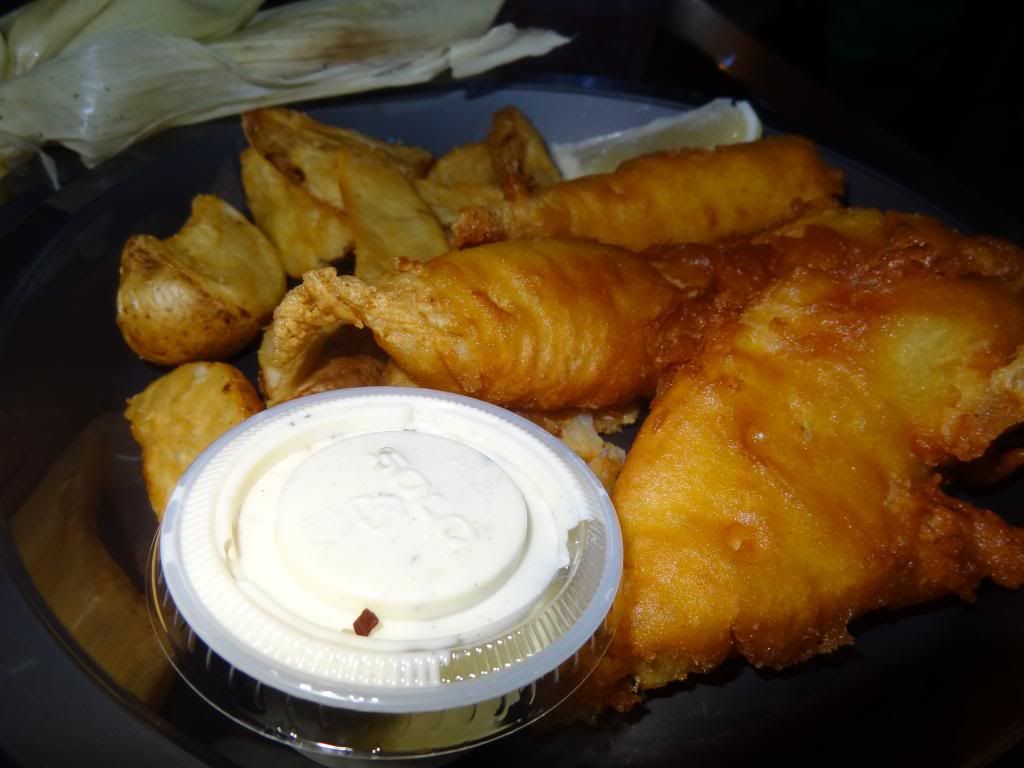 Fish & Chips
And I got the chicken:
Chicken
Both options were really tasty. It was nice to not have to resort to fried food for my option.
Of course, it wouldn't be lunch at Three Broomsticks without Butterbeer!
Butterbeer
Mmm, so good. This was our first time trying Three Broomsticks and I thought it was really good. I'd definitely go again.
We spent a little more time walking around the rest of Islands of Adventure.
Curses!!
We spent a decent amount of time standing on the bridge and shooting riders of the flume ride with water. It was hilarious.
We eventually decided to make our way over to Universal Studios. We waited for the Simpson's ride. I'm not a Simpson's fan, so clearly I was not the target market for that ride, I didn't enjoy it much.
We also hit up the MIB ride. I love it. We would have rode it again, but the locker situation was a bit of a mess. I made a note to self to not bring a bag the next time we went since most of their rides don't allow you to have any bags.
A pretty laid back day at Universal Studios. It worked pretty well for us, it's nice to be able to go up and not feel like you have to do everything that day. I'm sure we'll be back soon!