After our big breakfast, we hopped on the monorail and visited the Magic Kingdom.
Magic Kingdom
Unfortunately New Fantasyland was doing Cast Previews, so Geoff wasn't able to check it out. We hit all of our favorites, and around 1pm were heading over to Food & Wine to hit up the booths.
Since it was a Monday, it wasn't crowded at all...woo!
We started off in Greece and had the griddled cheese: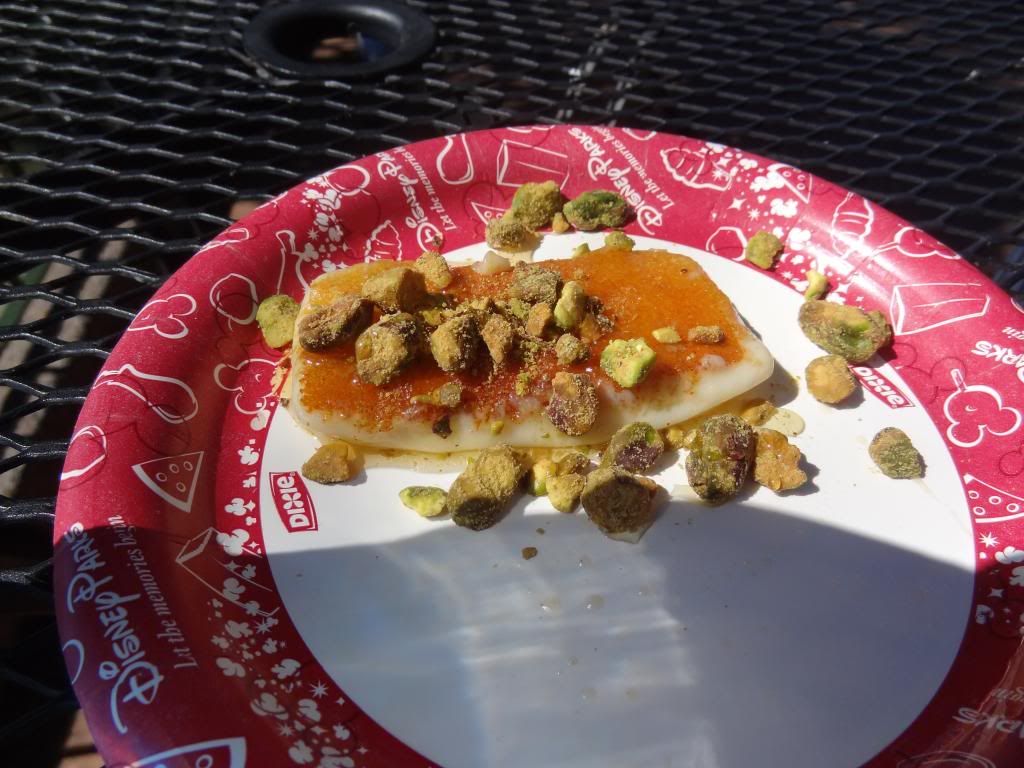 Griddled Cheese, Greece
I actually enjoyed it better the first time I had it. The first time I gave it a 4, this time I think it needs a 3. It was still tasty, but last time it was really melty - and it was a larger portion. This just wasn't that exciting.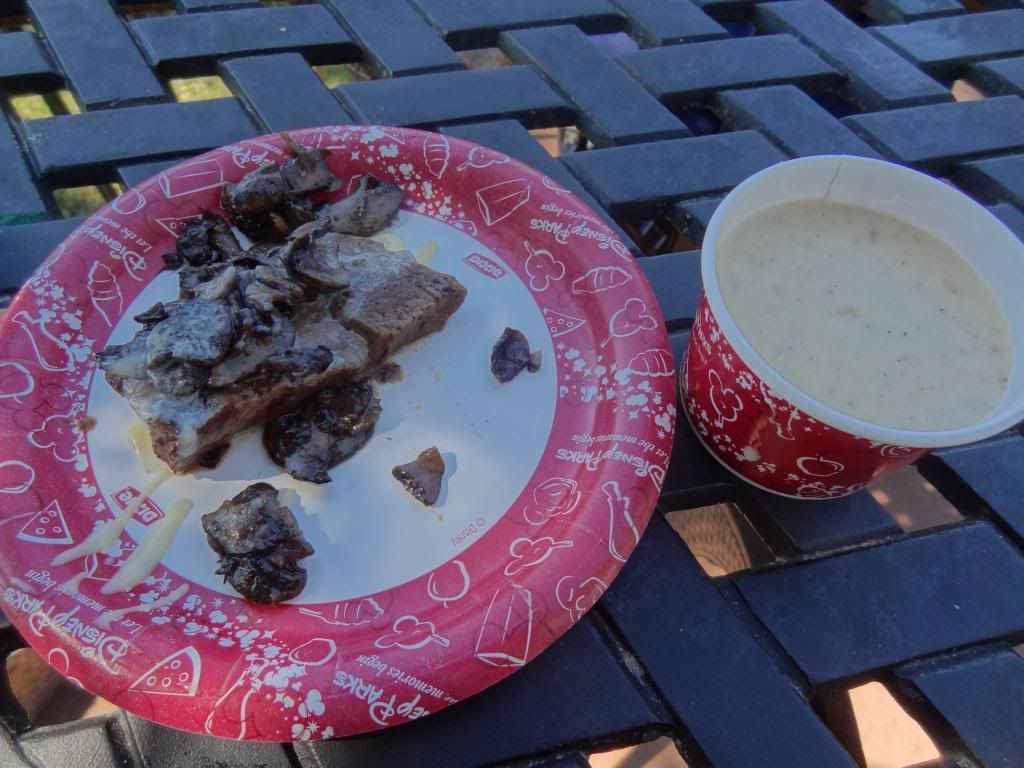 Filet, Cheddar Cheese Soup - Canada
The filet last time was definitely prettier. And this one was more medium/medium-well rather than the nice rare one I had before. Even with that, it still gets a 5. Absolutely delicious! And the Cheddar Cheese soup also gets a 5. I could probably stand at this both the entire day and be totally happy.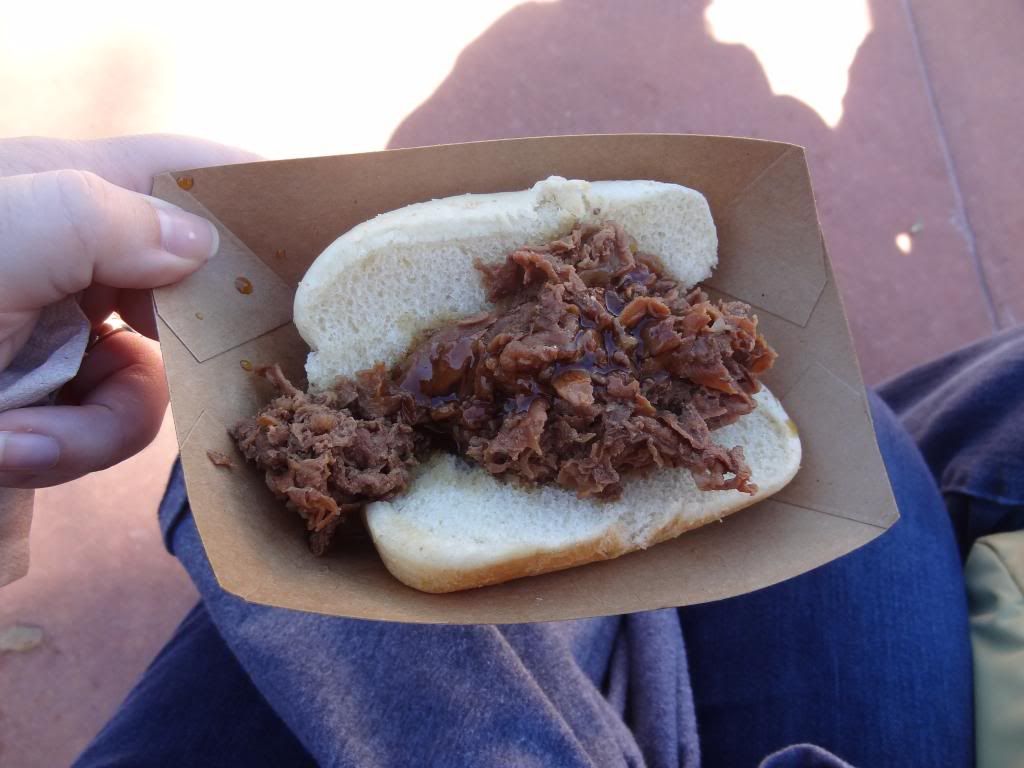 Sukiyaki Beef Pan, Japan
This was one of our more interesting choices. It reminded me of the Japanese version of a cheesesteak - without the cheese obviously. I remember enjoying it, but not much else. Because of that, I'll give it a 3. A solid choice, but clearly nothing spectacular.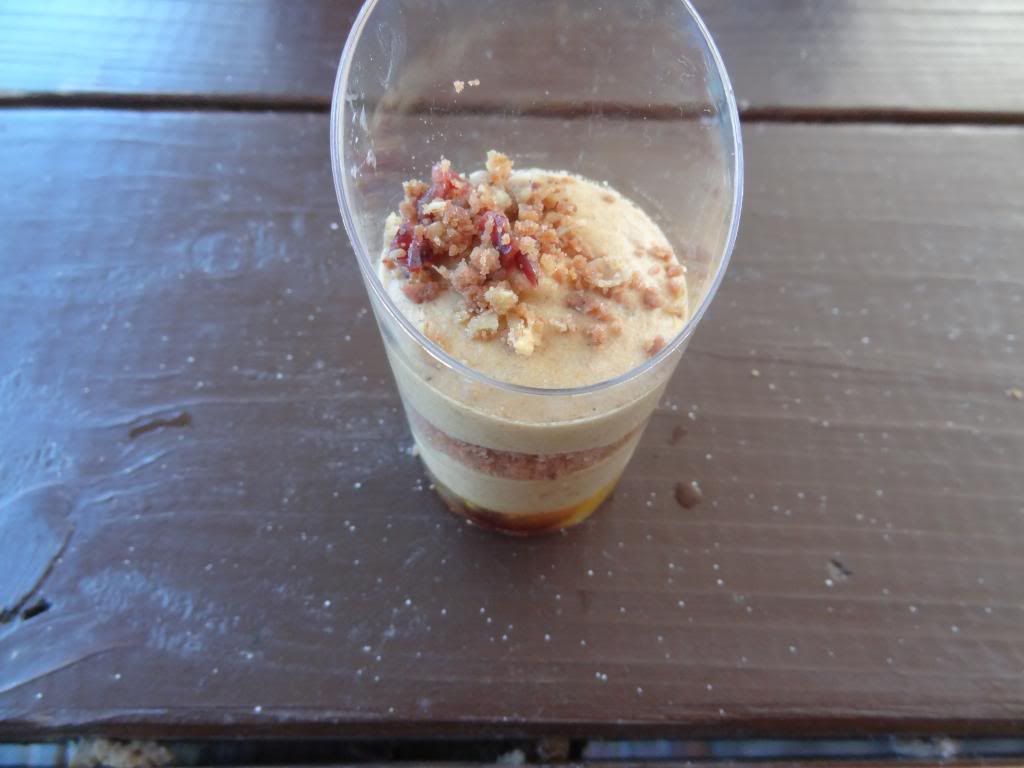 Pumpkin Mousse, Hops & Barely
I have a weakness for anything pumpkin and at this point wanted something a little sweet. Since this was all of $1.50, I decided to go ahead and get it. I'd give it a 4. Really good, but I wished there were more! It was everything I like about pumpkin desserts. I would definitely recommend it.
Zapiekanki- Toasted Mushroom, Onion, and Cheese Bread
with House Made Ketchup, Poland
Our next stop was Poland. I couldn't bring myself to spend $5 on a single Pierogy, but the cheese bread looked interesting. It was really good, the ketchup made the dish though. There was a little bit of a zing that Heinz doesn't have. I'll give it a 4. Not a must-have, but certainly surprisingly good.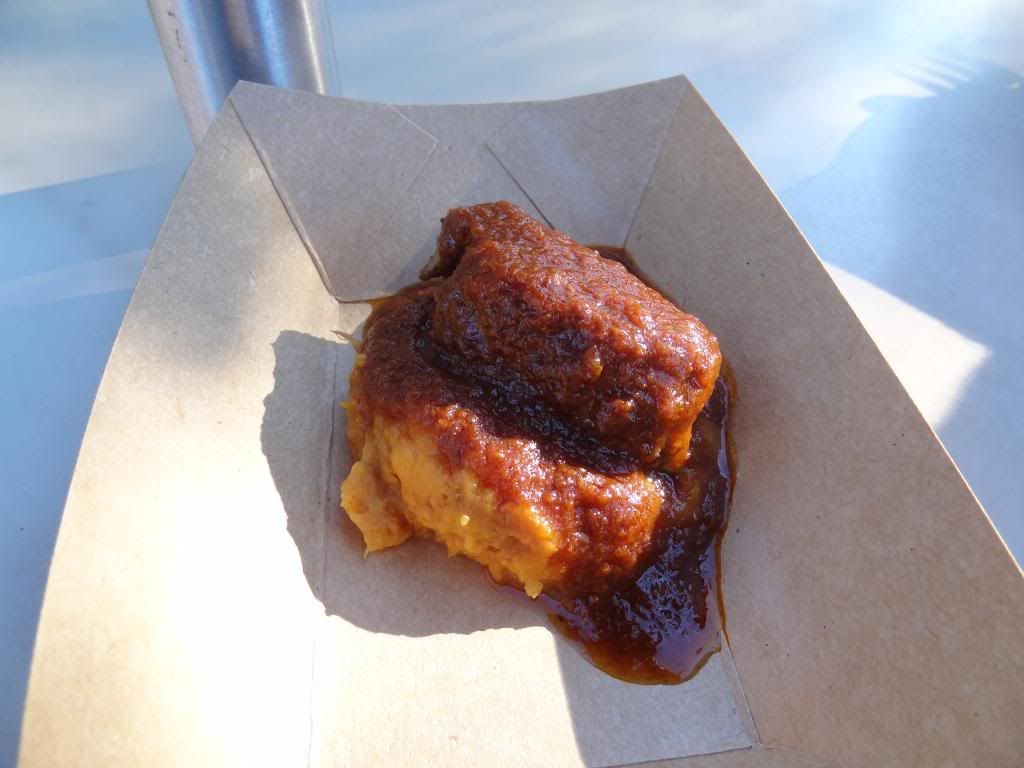 Seared Filet, Smashed Sweet Potatoes with Braai Sauce, South Africa
At the South Africa booth we started with the beef option. I hated it. I would give it a 1, but Geoff liked it, so I suppose it'll get a 2. The braai sauce I just was not a fan of. It doesn't even compare to the filet at Canada.
Spinach and Paneer Pocket, South Africa
While Geoff ate the beef, I opted for the Spinach and Paneer pocket. Paneer is a type of cheese. This was a solid option, but it had a bit of a kick. I'm not sure I'd get it again, but I'm glad I tried it, so I'll give it a 3. It's also the most impressive picture I took while there....
Mongolian Beef, China
Next up was China. We decided to try the Mongolian Beef. This is actually one of my favorites from the Festival. It was surprisingly good, especially on the bun. I would give this a 5, definitely recommend trying it!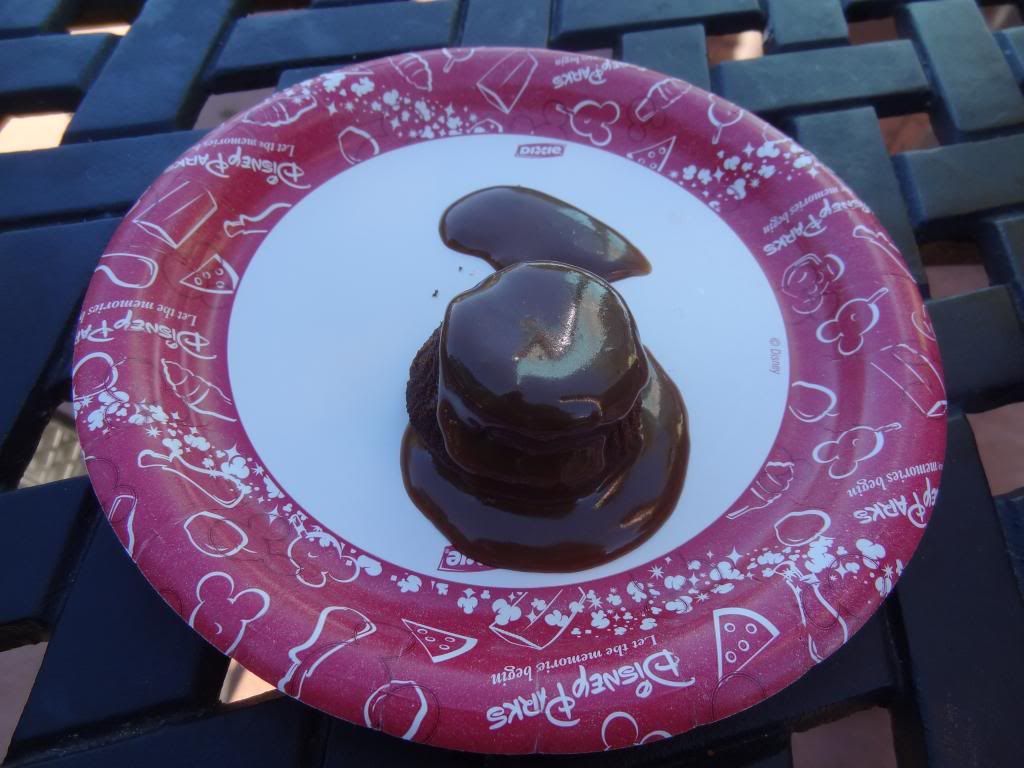 Bailey's Lava Cake, Ireland
Finally, we capped off the day of doing nothing but eating by having the Lava Cake. This is a good solid option for dessert. I just wish it was a little larger! I'd give it a 4.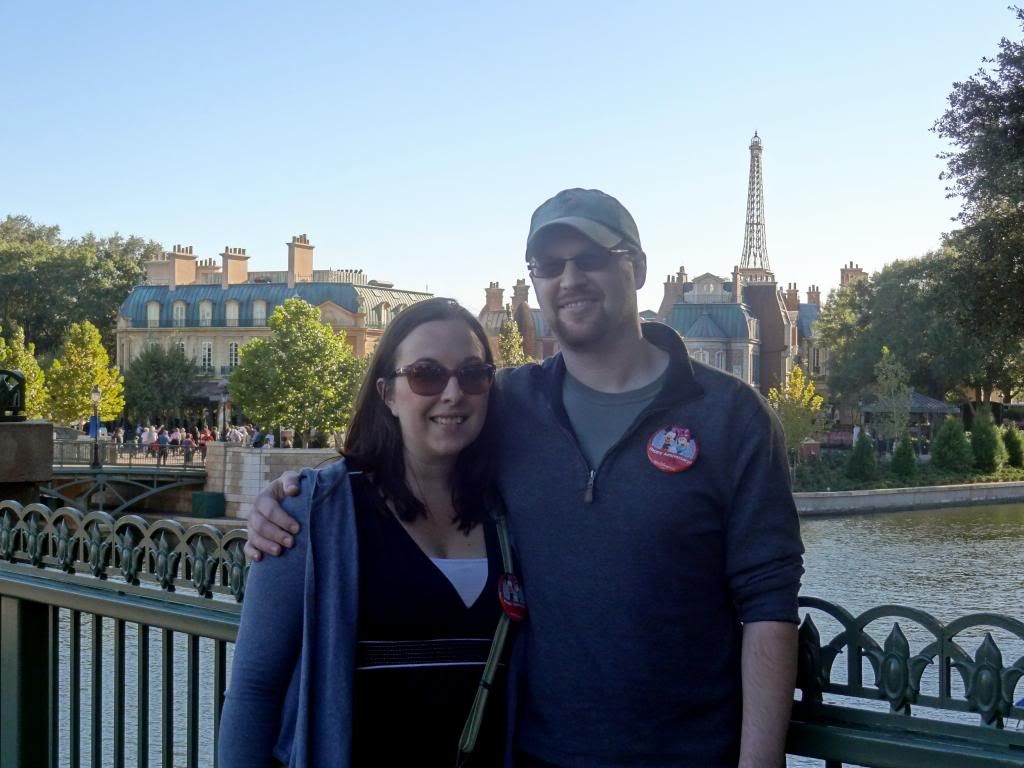 Stuffed & happy!
After gorging ourselves, we headed back to the Swan to relax. We then headed over to Hollywood Studios to catch Fantasmic. Geoff had never seen it, and I think it had been close to a decade since I last saw it. It's not my favorite nighttime show in Disney World and I don't quite understand why people love it. I also think compared to World of Color, it really shows its age.
On our way back (we walked - it wasn't a bad walk) we decided to stop by the Boardwalk Bakery and grab breakfast for the morning (which I totally forgot to take a picture of) and a snack for the evening.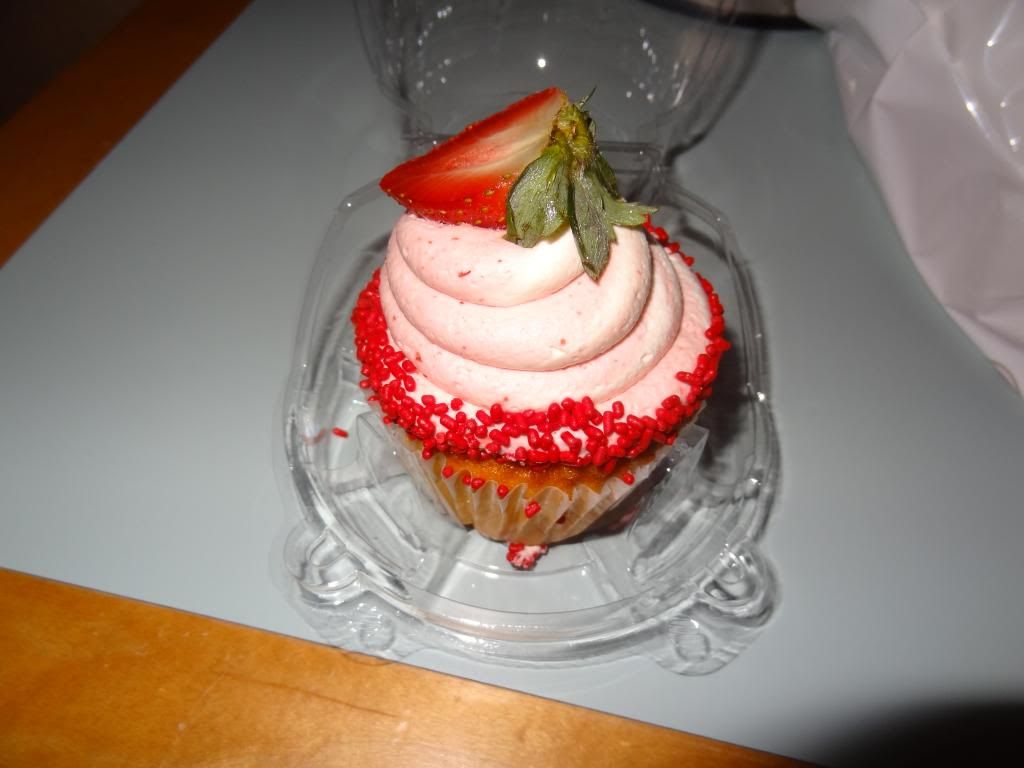 Strawberry Cupcake
We got a Strawberry Cupcake to split. It was really good and hit the spot - nice and fluffy and light. Not terribly sweet. I do love the Boardwalk Bakery!